Stadil - Monument Updated: 26 FEB 2010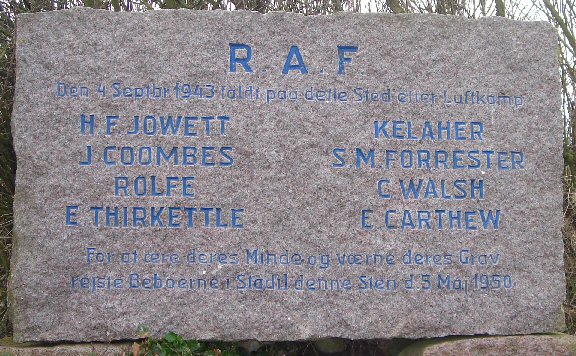 On 4 September 1943 fell on this spot
after an aerial combat
H.F. JOWETT KELAHER

J. COOMBES S.M. FORRESTER

ROLFE C. WALSH
E. THIRKETTLE E. CARTHEW
To honour their memory and guard their grave

the residents of Stadil erected this stone
on 5 May 1950.

Denne mindesten er for flyverne fra LAN EE 138. Se nedstyrtningsstedet 15. marts 2008 og 30. juni 2009, Stadil - Historien og

Se Stadil - Flyverminde med nye bronzetavler og trækorset afsløret ved 65 års højtideligheden for styrtet 4. september 2008 og tekst på Tavler og kors.

This memorial stone is to the airmen of LAN EE 138. See the crash site on 15 March 2008 and 30 June 2009, Stadil - The story and

See Stadil - Memorial with new bronze plaques and wooden cross unveiled at the 65th Commemoration in 2008 and the inscriptions on Plaques and cross.