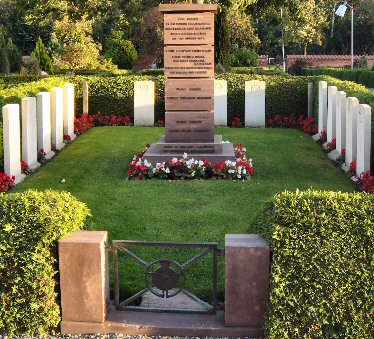 Aalestrup Kirkegård - Churchyard Updated: 02 SEP 2019

Aalestrup, 14 flyvere. Aalestrup Kirke, Kirkevej 18, 9620 Aalestrup i Vesthimmerlands Kommune. Indgangen er her. Disse grave er her nær kirken. Se "gravsten" 1945 og monumentet, også i 1946.

Se kirken på nettet. Klik Kirken og De faldt for Danmark
med beretning om de 14 flyvere og fine billeder.
Se engelske soldater i Aalestrup 18. maj 1945. Aalestrup 2019 - 75 år efter flystyrt.

Rester af flyet blev bragt tilbage til basen i England af Niels Erik Stampe og David Ashton, flyve-
historisk interesserede, til en mindehøjtidelighed i 2007. Desværre var Wasik da lige død.

Aalestrup, 14 airmen. Aalestrup Kirke, Kirkevej 18, 9620 Aalestrup in the Municipality of Vesthimmerland. The entrance is here. This plot is here near the church. See "gravestones" in 1945.
See the monument also in 1946 - 21 Polish Airmen buried in Denmark and more links.

See the church on the internet.
Click Kirken and De faldt for Danmark (they fell for Denmark) with an account of the 14 airmen
and fine photos. See British soldiers in Aalestrup 18 May 1945. Aalestrup 2019 - 75 years after air crashes.