Zdzislaw Kardasiewicz Updated: 29 MAR 2021 Photo from Jan Pietrzak via Greg Niebieska eskadra see Kardasewicz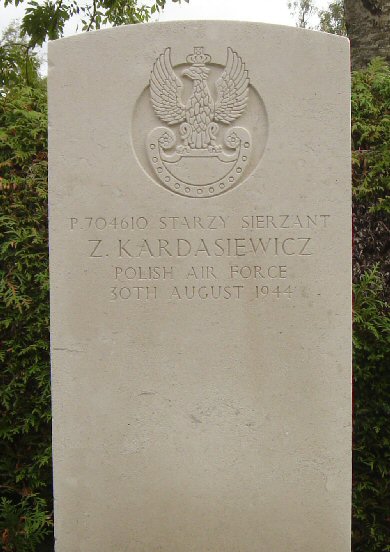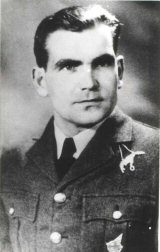 Airman: a116009.htm Surname: Kardasiewicz Init: Z Rank: F/Sgt Service: PAF Sqdn: 300
P_link: p361.htm Plane: LAN PA163 Operation: Bomb G Crash_site: Lovns Bredning
Crash_d: d300844 Buried_d: b200944 C_link: c116.htm At_Next: Aalestrup

"På vej til Stettin (Szczecin) blev et Lancaster fly med polsk besætning ramt at en tysk natjager. Flyet eksploderede i luften og styrtede brændende i Lovns Bredning kort efter midnat."
(FAF) Nedstyrtningsstedet i vandet var her (Kilde: Niels Erik Stampe).
En mindesten er rejst ved kysten her på privat initiativ.
Piloten, W.P. Wasik blev slynget væk fra maskinen ved eksplosionen og reddede sig i sin
faldskærm. Læs hvordan W.P. Wasik blev hjulpet til Sverige.
De andre 6 besætningsmedlemmer omkom ved styrtet og blev alle begravet i Aalestrup, efterhånden som de blev fundet. F/Sgt Z. Kardasiewicz blev begravet den 20. september 1944.
Historisk Samling og Arkiv Himmerland har mere om dette fly og dets besætning.
Se 21 polske flyvere begravet i Danmark ud af 36 polske flyvere skudt ned over Danmark. 7 flyvere.

"Heading for Stettin (Szczecin) a Lancaster with a Polish crew was hit by a German night fighter. The plane exploded in the air and crashed, burning, into Lovns Bredning shortly after
midnight." (FAF) The crash site in the water was here (Source: Niels Erik Stampe).
A memorial stone is erected at the coast here due to a private initiative.
P/O (Pilot) W.P. Wasik was thrown clear of the plane at the explosion and his parachute saved him. Read how W.P. Wasik was helped to evade to Sweden.
The other 6 members of the crew perished in the crash and were alle buried in Aalestrup in the
course of time as they were found. F/Sgt Z. Kardasiewicz was buried on 20 September, 1944.
He is remembered on The Walls of Names at the International Bomber Command Centre, Ph 1, P 57.
See No. 300 Polish Bomber Squadron - Wikipedia * No 300 Polish Squadron Photo Gallery
RAF-Lincolnshire.info * Operation 30 AUGUST 1944 - routes and losses.
See 21 Polish Airmen buried in Denmark * 36 Polish airmen shot down over Denmark.
Lancaster I PA163 BH-M took off from RAF Faldingworth at 21.08 hrs on 29 AUG 1944. (Source: Aircrew Remembered has this.) p361MACR 7 airmen.