Ove - Oue Kirkegård - Churchyard Updated: 31 AUG 2019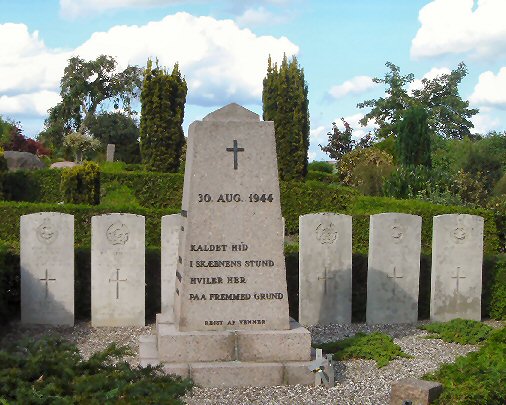 Ove - Oue, 7 flyvere. Se monumentet i nærbillede.
Oue Kirke, Kirkesvinget 3, Oue, 9500 Hobro
i Mariagerfjord Kommune (kontor)

Indgangen er her over for Borgervej 6, 9500 Hobro.
Gravene er her sydøst for kirken.

Se kirken på nettet.

Se mindehøjtidelighed i Oue 2019 75 år efter flystyrtet.

Ove - Oue, 7 airmen. See the monument at close range.
Oue Church, Kirkesvinget 3, Oue, DK-9500 Hobro
in the Municipality of Mariagerfjord (office)

The entrance is here opposite Borgervej 6, DK-9500 Hobro.
This plot is here southeast of the church.
See the church on the internet.

See memorial ceremony in Oue 2019 75 years after the plane crash.