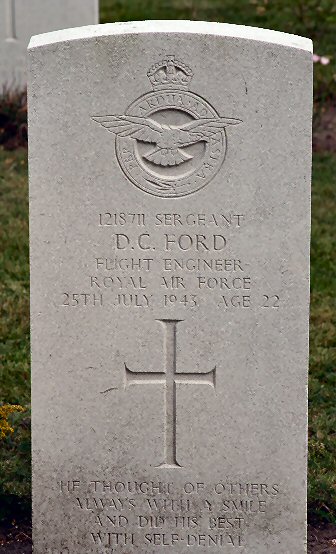 Douglas Courtney Ford Photo: Mogens Jeppesen Updated: 30 SEP 2021

Airman: a113065.htm Surname: Ford Init: D C Rank: Sgt Service: RAF Sqdn: 51
P_link: p188.htm Plane: HAL HR940 Operation: Bomb G Crash_site: Kær Hestehave
Crash_d: d250743 Buried_d: b290743 C_link: c113.htm At_Next: Aabenraa, R 3-15

"På vej til Hamburg nedstyrtede et "Halifax" fly den 25. juli 1943 i en frugtplantage i Kær, nord for Sønderborg. Flyet blev skudt ned af en tysk natjager. 5 besætningsmedlemmer omkom straks, mens
Sgt Livermore og Sgt McLaughlin hårdt kvæstede og døende blev kørt til Landshospitalet i Sønderborg.
Jfr. politiets oplysninger døde den sidstnævnte samme dag, Sgt Livermore 2 dage senere, den 27. juli.
Hele besætningen blev begravet af en tysk feltpræst den 29. juli 1943. Mindesten i Hestehave frugtplantage
rejst af Ulkebøl kommune." (FAF)
Sergeant (Flight Engineer) Douglas Courtney Ford, 22 år, var søn af Bernard og Edith Kate Ford, Woking, Surrey, United Kingdom. (Kilde: CWGC)
Mindestenen er rejst her 150 m nord for Arnkilsmaj 2, 6400 Sønderborg. Nedstyrtningsstedet er ca. 150 m
øst for mindestenen. Med filer fra Gunnar Hounsgaard til seniorsergent L.Larsen, Hærens Sergentskole, dengang i Sønderborg, lavede Forsvaret lavet informationstavlen sat op her. Zoom. Se p188MACR.
Se Google Map 51 Squadron og Halifax bombefly. Halifax Print og folk bag en Halifax klar til en mission.

"Heading for Hamburg on 25 July 1943 a Halifax crashed in an orchard in Kær, north of Sønderborg.
The plane was shot down by a German night fighter. 5 members of the crew perished immediately, while
Sgt Livermore and Sgt McLaughlin, severely wounded and dying, were driven to the hospital in Sønderborg.
According to information from the police, the latter died the same day, Sgt Livermore 2 days later, on
27 July. All of the crew was buried by a German army chaplain on 29 July 1943. Memorial stone in
Hestehave frugtplantage ("Horsegarden orchard") erected by the Municipality of Ulkebøl." (FAF)

Sergeant (Flight Engineer) Douglas Courtney Ford, 22, was the son of Bernard and Edith Kate Ford, of Woking, Surrey, United Kingdom. (Source: CWGC)
He thought of others always with a smile and did his best with self-denial
He is remembered on The Walls of Names at the International Bomber Command Centre, Phase 2, Panel 165.
The memorial stone is erected here 150 m north of Arnkilsmaj 2, DK-6400 Sønderborg. The crash site is about 150 m east of the memorial stone.
With files from Gunnar Hounsgaard to SSG L.Larsen, the Army NCO School, then in Sønderborg, Danish Defence made the information table placed here. p188MACR.
Halifax II HR940 MH- took off from RAF Snaith at 22.56 hrs on 24 JUL 1943. (Source: Aircrew Remembered has this.) See Halifax Print and Halifax - Bless 'Em All.
See No. 51 Squadron RAF - Wikipedia. This Halifax of 51 Squadron took off from Snaith, see also former RAF Snaith. See Google Map 51 Squadron. 7 airmen.