Halifax II HR940 - Kær Hestehave Photo: Anders Straarup 01 SEP 2018 Total Updated: 04 SEP 2018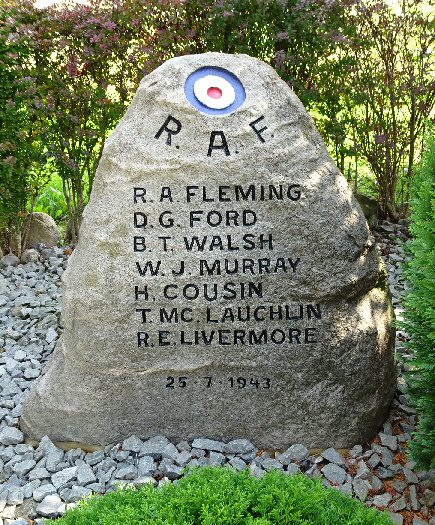 Monument for flyverne fra HAL HR940 er rejst her
150 m nord for Arnkilsmaj 2, 6400 Sønderborg.

Nedstyrtningsstedet er ca. 200 m øst for mindestenen,
der blev rejst af Ulkebøl kommune i 1949.
I mange år blev den passet af Rigmor og Jørgen Petersen,
som ejede marken, hvor flyet styrtede ned.
Nu passes stedet af Sønderborg Kommune.
Informationstavlen udarbejdet af Gunnar Hounsgaard
blev opsat 25. juli 2003 af Hærens Sergentskole,
then in Sønderborg.

Se mindestenen med omgivelser i 2018.

Flere links ved HAL HR940.

Monument to the airmen from HAL HR940 erected here
150 m north of Arnkilsmaj 2, 6400 Sønderborg.
The crash site is about 200 m east of the memorial stone,
erected by the Municipality of Ulkebøl in 1949.

For many years it was tended by Rigmor and Jørgen Petersen,
who owned the field where the plane crashed.
Now it is kept by the Municipality of Sønderborg.
The information board drafted by Gunnar Hounsgaard
was placed here on 25 July 2003 by the Army NCO School,
then in Sønderborg.

See the memorial stone and its surroundings in 2018.
More links at HAL HR940.