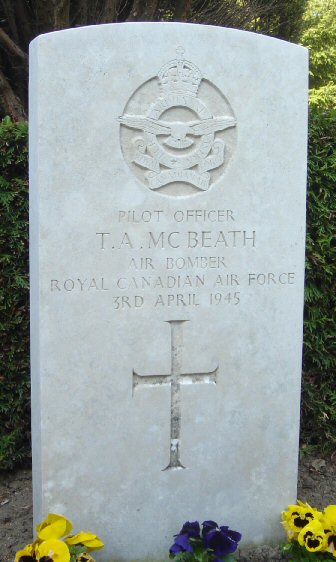 Thomas Albert McBeath Updated: 22 NOV 2021
Airman: a110003.htm Surname: McBeath Init: T A Rank: P/O Service: RCAF Sqdn: 299
P_link: p418r.htm Plane: STI LJ942 Operation: Drop in DK Crash_site: Roskilde Fjord
Crash_d: d030445 Buried_d: b090645 C_link: c110.htm At_Next: Kirke Værløse

Natten til den 3. april 1945 styrtede STI LJ942 i Roskilde Fjord her nord for Frederikssund.
Se Google Map p418r. Se også www.gunnarmarboe.dk om Besættelsen og hverdagsliv 1940-1945 og
især Pilot under jorden om Dillon og andre flyvere fra dette fly.
3 flyvere nåede Sverige, 2 blev krigsfanger og 1 blev begravet i Kirke Værløse. (Kilde: FT 88-44-51)

Natten mellem den 2. og 3. april 1945 skulle tre Stirlings nedkaste våben til et større dansk modtagehold
på Orø (her) i Isefjorden. - Med voldsom kraft ramte flyet vandet (her) 600 meter nord for Stenø og ca.
100 meter fra land (nærbillede her). Se mere om hele besætningen i den lange historie.

"Flyets bombekaster, McBeath, blev dræbt. Han blev af tyskerne fundet i vandet foran vraget og bjerget
i land. Efter befrielsen fandt man i en grøft ved Værløse flyveplads liget af en ukendt britisk flyver. Det viste
sig at være McBeath. Begravelsen blev foretaget den 9. juni 1945 af pastor O.E.L. Christiansen.
Jordfæstelsen fandt sted efter engelsk ritual med militære æresbevisninger." (FAF)

Pilot Officer (Air Bomber) Thomas Albert McBeath var fra Canada. (Kilde: CWGC)
69 omkomne flyvere mindes på Mindetavlen i Rebild og i London, se 69 flyvere - St. Clement Danes.
Se Google Map Rebild med 15 fly mistet med tab af 69 liv + 3 fly mistet uden tab af liv.



On the night before 3 April 1945 STI LJ942 crashed into Roskilde Fjord here north of Frederikssund.
See also www.gunnarmarboe.dk about a family 1940-1945 and Pilot under jorden about Dillon and other airmen from this plane. In Danish but with some photos.
See Google Map p418r. 3 airmen evaded to Sweden, 2 became POWs and 1 one buried in Kirke Værløse. (Source: FT 88-44-51) Excerpts from the long story:

In the night between 2 and 3 April 1945 three Stirlings were to drop weapons to a large Danish team who
were ready to receive them in Orø (here) in the Isefjorden. - The plane crashed heavily into the water (here)
600 metres north of Stenø and about 100 metres from land (at close range here).
See more about all of the crew in the long story.

Bomb aimer McBeath was killed. He was found by the Germans in the water in front of the wreck and taken ashore. After the liberation the body of an unknown British airman was found in a ditch at Værløse Airfield. It appeared to be McBeath. The funeral was carried out on 9 June 1945 by Vicar O.E.L. Christiansen. The interment
was according to the English ritual with military honours. (Source: FAF)
Pilot Officer (Air Bomber) Thomas Albert McBeath was from Canada. (Source: CWGC) The Canadian Virtual War Memorial has this.
See 69 perished airmen on the Memorial Plaque in Rebild and in London, 69 airmen - St. Clement Danes. See Google Map Rebild with 15 + 3 planes lost.