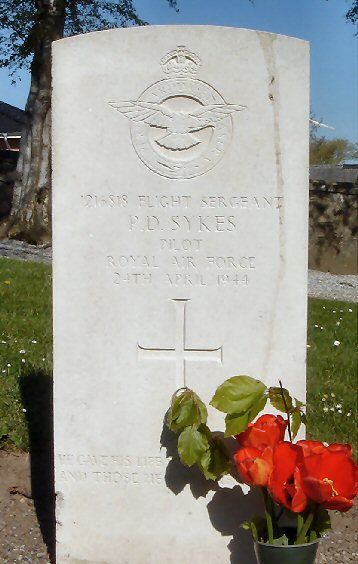 Paul Derrick Sykes Updated: 27 MAY 2021
Airman: a096044.htm Surname: Sykes Init: P D Rank: F/Sgt Service: RAF Sqdn: 77
P_link: p305.htm Plane: HAL LW270 Operation: Minelaying Crash_site: Near Hjelm, Lolland
Crash_d: d240444 Buried_d: b300444 C_link: c096.htm At_Next: Svinø

HAL LW270 styrtede ned kl. 23:50 den 23. april 1944 på en mark nær Hjelm, som er her. Dette fly skulle lægge miner ud for Rostock, omkring her.
"114 RAF bombefly foretog denne nat mineringer i Østersøen og 4 Halifaxes og 1 Stirling gik tabt fortrinsvis p.g.a. tyske natjagere. LW270 blev vest for Nakskov (omkring her) angrebet af en Me110 fra 10./NJG3 baseret på Westerland på Sylt (her). Flyet brød i brand og mid-upper gunner, Sgt W.H. Loverock, der var med på sit første togt, blev hårdt såret. Alle 7 besætningsmedlemmer sprang ud med faldskærm over den nordøstlige del af Lolland og den nordlige del af Guldborgsund (området omkring dette punkt). Mid-upper gunner og piloten, F/Sgt P.D. Sykes landede i vandet og druknede." (FT 86-92-27)
Se Memories from World War II af James H. Murray.
TV2 ØST sendte 5. maj 2009 Svinø Mindehøjtidelighed film, 3:25 min.

Flight Sergeant (Pilot) Paul Derrick Sykes var fra United Kingdom. (Kilde: CWGC)
7 flyvere.

At 23:50 on 23 April 1944 HAL LW270 crashed into a field near Hjelm, which is here.
This plane was to lay mines off Rostock, about here.
"114 RAF bombers carried out minelaying operations in the Baltic Sea, and 4 Halifaxes and 1 Stirling
were lost, mostly due to German night fighters. LW270 was attacked west of Nakskov (about here) by a Me110 from 10./NJG3 based in Westerland, Sylt (here). The plane caught fire and Sergeant (Mid Upper Gunner) W.H. Loverock was severely injured on his first sortie. All 7 crew members bailed out over the northeastern part of Lolland and the northern part of Guldborgsund (the area around this point). The Mid Upper Gunner and Flight Sergeant (Pilot) P.D. Sykes landed in the water and drowned." (FT 86-92-27)
See Memories from World War II by James H. Murray and
Escape from Denmark about W. A. Power - in BBC - WW2 People's War.
On 5 May 2009 TV2 ØST sent Svinø Mindehøjtidelighed Svinø Memorial Service (film, 3:25 min. - parts of it in English, interview with Mary Brown)

Flight Sergeant (Pilot) Paul Derrick Sykes was from the United Kingdom. (Source: CWGC)
He gave his life for those he loved and those he loved remember
He is remembered on The Walls of Names at the International Bomber Command Centre, Phase 2, Panel 250.
Halifax * Halifax-BC Museum.Canada * Halifax-RAF Museum * Halifax-The Yorkshire Air Museum * Halifax Print and Halifax - Bless 'Em All * 77 Squadron Association
Halifax II LW270 KN-P took off from RAF Elvington at 21.05 hrs on 23 APR 1944. (Source: Aircrew Remembered has this.) Google Map 77 Squadron DK 7 airmen.