Albert Sydney Perkins

Foto * Kondolence * Medalje * 4 * Diplom * Brev s. 1 * Brev s. 2 * Stifinder Updated: 30 APR 2017
Squadron Leader A.S. Perkins

Photo * Condolence * Medal * 4 * Citation * Letter p. 1 * Letter p. 2 * Path Finder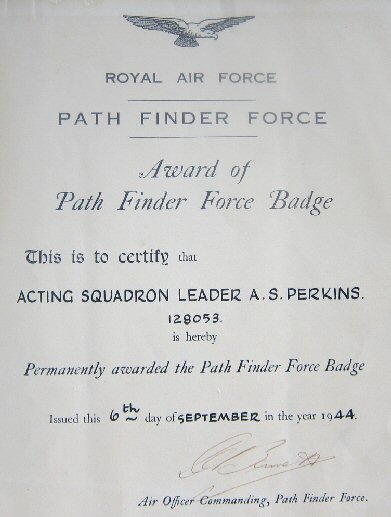 Foto fra Douglas Johnston.

Især i den første del af krigen var det meget svært for allierede flyvere at finde deres mål!

Se Navigation og links derfra.

En af løsningerne var at lade særligt dygtige piloter og navigatører lede hovedstyrken til
målområdet, hvor de andre piloter skulle se efter markeringsblus i forskellige farver.

A.S. Perkins viste sig som en meget dygtig navigatør.

Derfor fik han dette hæderstegn. Mere i links på engelsk.

Photo from Douglas Johnston.

Particularly during the first part of the war it was very difficult for Allied airmen to find their targets!
See Navigation and links from there.
One of the solutions was to let particularly skilled pilots and navigators lead the main force to
the target area. They marked the target with flares to make it easier for other pilots.

A.S. Perkins proved to be an extremely skilled navigator.

That is why he had this award.
Citation for the Award of the Path Finder Force Badge.

More about Pathfinders (RAF) and the founder Don Bennett.