Albert Sydney Perkins

Foto * Kondolence * Medalje * 4 * Diplom * Brev s. 1 * Brev s. 2 * Stifinder Updated: 30 APR 2017
Squadron Leader A.S. Perkins

Photo * Condolence * Medal * 4 * Citation * Letter p. 1 * Letter p. 2 * Path Finder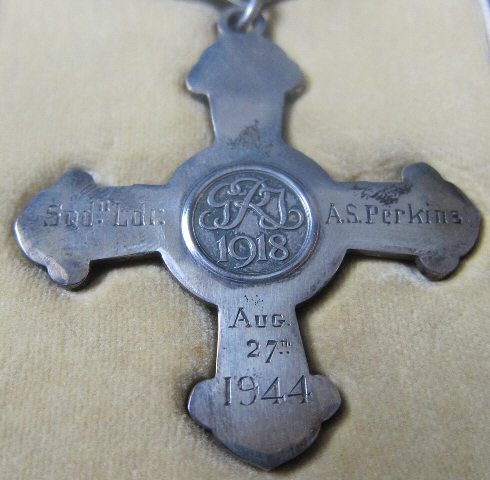 Foto fra Douglas Johnston. Se alle 4 medaljer tildelt A.S. Perkins.

Bagsiden af medaljen Distinguished Flying Cross.

Det britiske forsvarsministerium fastslår, at DFC er en medalje for tapperhed
i tjenesten til alle grader for udvist eksemplarisk tapperhed under aktive
operationer mod fjenden i luften. Personel som en gang mere viser en sådan
tapperhed, som kunne have givet en anden DFC-medalje, vil få en sølvbjælke
prydet med en ørn.

Dette hæderstegn kan gives posthumt.

Photo from Douglas Johnston. See all 4 medals awarded A.S. Perkins.
The reverse side of the medal Distinguished Flying Cross.

The Ministry of Defence, Medals: Campaigns, descriptions and eligibility:

"The Distinguished Flying Cross is an operational gallantry award given to
all ranks of the services in recognition of exemplary gallantry during active
operations against the enemy in the air. Personnel who perform a further
act of such gallantry which would have merited a second award of the DFC
would be issued with a silver bar ornamented by an eagle.

This award is available posthumously."