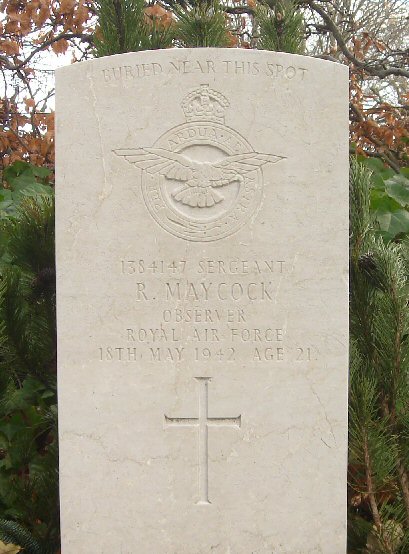 Ronald Maycock Updated: 07 MAR 2022
Airman: a069008.htm Surname: Maycock Init: R Rank: Sgt Service: RAF Sqdn: 15
P_link: p083.htm Plane: STI W7531 Operation: Minelaying Crash_site: Galsklint, Fyn
Crash_d: d180542 Buried_d: b210542 C_link: c069.htm At_Next: Odense

Sergeant R. Maycock er begravet i Odense sammen med 7 andre fra STI W7531.
Sergeant (Observer) Ronald Maycock, 21 år, var søn af Charles Stephenson Maycock og Elizabeth Ann Maycock, Sunderland, Co. Durham, United Kingdom. (Kilde: CWGC)
Hans tilstedeværelse blev ikke noteret i første omgang, da 7 kister med dele af svært
lemlæstede lig blev begravet.
AOD: "I 1999 havde en gruppe mennesker fra Odense arbejdet sig gennem rapporter og vidneudsagn tilbage fra maj 1942 og havde samlet nok vidnesbyrd til at overbevise
Commonwealth War Graves Commission om at Maycock faktisk var blevet begravet sammen
med sine kammerater 21/5 1942. 10/5 1999 blev der afholdt en højtidelighed på kirkegården,
og en gravsten med Maycocks navn blev afsløret."
Dette forklarer ordene: Begravet nær dette sted.
Finn Buch, dengang medlem af Odense-gruppen, nu freelance med opgaver i forbindelse med
2. Verdenskrigs historie, var stadig i 2007 på julekort med Ronald Maycocks søster, som
døde 11. januar 2008. Mrs. Irene Davison og hendes døtre var med ved mindehøjtideligheden i
2001. Ruth (hendes daughter) and Chris Manley var til stede ved 2009 Galsklint Mindeceremoni.
Philip Jeffs, søn af den eneste overlevende, har lavet hjemmesiden MacRobert´s Reply.
Se Google Map p083 * p083MACR * fotos fra Axel Sommerby * Short Stirling. 9 flyvere.

Sergeant R. Maycock is buried in Odense with 7 others from STI W7531.
Sergeant (Observer) Ronald Maycock, 21, was the son of Charles Stephenson Maycock and
Elizabeth Ann Maycock, of Sunderland, Co. Durham, United Kingdom. (Source: CWGC) He is
remembered on The Walls of Names at the International Bomber Command Centre, P 2, P 206.
His presence was not recorded in the first place, when 7 coffins with parts of severely mutilated bodies were buried.
AOD: "In 1999 a group of people from Odense had worked their way through reports and testimonies dating back from May 1942 and had collected enough evidence
to be able to convince The Commonwealth War Graves Commission that Maycock actually had been buried with his comrades on 21/5 1942.
On 10/5 1999 a ceremony was held at the cemetary and a headstone with Maycock´s name on it was unveiled." This explains the words: Buried near this spot.
Finn Buch, then a member of the Odense group, now freelance with assignments connected to World War 2 history, still in 2007 exchanged Christmas greetings with Ronald Maycock´s sister, who died on 11 January, 2008. Mrs. Irene Davison and her daughters were present at the 2001 memorial ceremony.
Ruth (her daughter) and Chris Manley were present at the 2009 Galsklint Memorial Ceremony.
Philip Jeffs, the sole survivor´s son, has made the website MacRobert´s Reply.
See No. 15 Squadron RAF - Wikipedia * XV (R) Squadron * Stirling * Google Map p083 p083MACR * Minelaying areas * photos from Axel Sommerby
Stirling I W7531 LS-F took off from RAF Wyton at 21:40 on 17 MAY 1942. (Source: Aircrew Remembered has this.) 9 airmen.