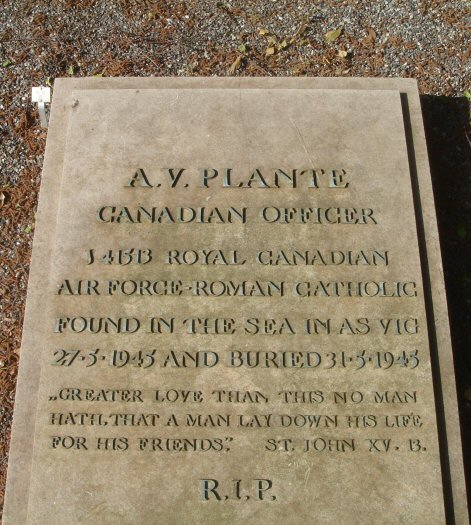 Arthur Vincent Plante Updated: 17 MAR 2021
Airman: a032001.htm Surname: Plante Init: A V Rank: F/O RCAF Sqdn: 433
P_link: p408.htm Plane: LAN NG233 Operation: Minelaying Crash_site: Kattegat
Crash_d: d120345 Buried_d: b310545 C_link: c032.htm At_Next: Horsens

4 Lancastere fra 433 BS skulle den 12. marts 1945 nedkaste hver 6 x 1850 lbs MK IV miner i Kattegat (omkring her). Kl. 17.46 lettede LAN NG233 fra Skipton-on-Swale med F/O J. P. Farrell og hans besætning på deres 9. fælles togt. Minerne blev kastet mellem 21.00 og 21.10. På hjemturen blev flyet angrebet sydvest for Samsø kl. 21.27
og brød i brand. Ud for As Hoved (her) ramte LAN NG233 vandet og sank på få minutter. En dansk fisker observerede nedstyrtningen og fik hurtigt sin båd i vandet, men uden resultat.
Den 27. maj drev liget af bombekasteren, F/O A. V. Plante, i land i As Vig (ved Pøt Strand her, overblik her.) Kilde: Bent Daugaard)
De andre besætningsmedlemmer har ingen kendt grav. (Kilde: FT 91-9-48)

Flying Officer (Air Bomber) Arthur Vincent Plante var fra Canada. (Kilde: CWGC)
Han blev begravet den 31. maj 1945. Monsignore Olrik holdt en tale og velsignede derefter graven efter det katolske ritual. Borgmester J. Chr. Juliussen udtalte det
officielle Danmarks tak til den faldne canadiske flyver.
En RAF officer fra Århus takket følget på RAF´s vegne, for at man havde taget sig af
F/O Plantes begravelse. (Kilde: FAF)
Den 3. august 1945 blev gravstenen afsløret:
A.V. Plante, canadisk officer, J 41513 Royal Canadian Air Force - romersk-katolsk. Fundet på havet i As Vig den 27/5 1945 og begravet den 31/5 1945.
"Større kærlighed har ingen end den at sætte sit liv til for sine venner."
Johs. 15,13 Hvil i fred.

Se Jeg vil mindes min ven Arthur foto og tekst af Bent Daugaard. Se Plante blandt
47 navne i London og Horsens. Se Google Map HorsensEH47. 7 flyvere.



On 12 March 1945 each of 4 Lancasters from 433 Squadron were to drop 6 x 1850 lbs MK IV mines in the Kattegat (about here). At 1746 hrs LAN NG233
took off from Skipton-on-Swale with F/O J. P. Farrell and his crew on their operation number 9 together. The mines were dropped between 2100 hrs and 2110 hrs.

The plane was attacked on the return flight south west of Samsø at 2127 hours and caught fire. LAN NG233 hit the water off As Hoved (here) and sank within a
few minutes. A Danish fisherman observed the crash and was quick to get his boat into the water, but to no avail.

On 27 May the body of the bomb aimer, F/O A. V. Plante, drifted ashore in As Vig (on Pøt Strand, here overview here. Source: Bent Daugaard)
The other crew members have no known grave. (Source: FT 91-9-48)

Flying Officer (Air Bomber) Arthur Vincent Plante was from Canada. (Source: CWGC)
His name is engraved on the Memorial Wall at the BC Museum of Canada. The Canadian Virtual War Memorial has this.
He is remembered on The Walls of Names at the International Bomber Command Centre, Phase 2, Panel 226.

He was buried on 31 May 1945. Monsignore Olrik delivered a speech and then blessed the grave according to the Roman Catholic ritual.
Mayor J. Chr. Juliussen expressed the thanks of the official Denmark to the fallen Canadian airman.
On behalf of the Royal Air Force an officer of the RAF in Aarhus thanked the mourners for taking care of the funeral of F/O Plante. (Source: FAF)
This gravestone was unveiled on 3 August 1945:

A.V.Plante, Canadian Officer J 41513 Royal Canadian Air Force Roman Catholic found in the sea in As Vig 27-5-1945 and buried 31-5-1945
"Greater love than this no man hath that a man lay down his life for his friends." St. John XV.13. R.I.P

See I'll remember my friend Arthur photo and text by Bent Daugaard. See Plante among 47 names in London and Horsens. See also Google Map HorsensEH47.

No. 433 (Porcupine) Squadron was formed within No. 6 Group, see No. 6 Group and the Canadian Squadrons
Lancaster * Lancaster-BC Museum.Canada * Lancaster Photos * 433 Tactical Fighter Squadron.
Lancaster I NG233 BM-E took off from RAF Skipton-on-Swale at 17.46 hrs on 12 MAR 1945. (Source: Aircrew Remembered has this.) p408MACR 7 airmen.