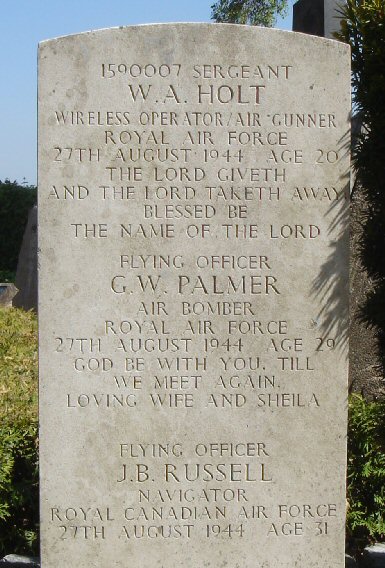 William Alexander Holt Updated: 14 OCT 2021

Airman: a023003.htm Surname: Holt Init: W A Rank: Sgt Service: RAF Sqdn: 166
P_link: p352.htm Plane: LAN LM694 Operation: Minelaying Crash_site: Aastruplund
Crash_d: d270844 Buried_d: b300844 C_link: c023.htm At_Next: Gl. Rye

Denne flyver og resten af besætningen fra LAN LM694 hviler på Gl. Rye Kirkegård.
Denne Lancaster blev på tilbagevejen efter mineudlægning i Danzig/Gdansk-bugten skudt ned
af en tysk natjager her over Midtjylland ved Aastruplund. Nedstyrtningsstedet tæt på er ved mindekorset rejst her efter Danmarks befrielse i maj 1945. Se Anders Lund på nedstyrtningsstedet.
Gennem årene har der været mange kontakter mellem flyvernes familier og familien på Åstrupgård.
Se Anders Lund: Mine 7 flyverhelte og Vragdele. Se canadisk side om Fitzgerald - en af mange.

Sergeant (Wireless Operator/Air Gunner) William Alexander Holt, 20 år, fra United Kingdom, var
søn af Thomas William og Janet Temple Holt, Gateshead, Co. Durham. (Kilde: CWGC)
Se hans navn blandt 47 navne i London og Horsens. Se også Google Map HorsensEH47. 7 flyvere.



This airman and the rest of the crew of LAN LM694 rest on Gl. Rye Kirkegård.
On the return flight after minelaying in the Danzig (Gdansk) Bay this Lancaster was shot
down by a German night fighter here over the central part of Jutland at Aastruplund. The crash site
at close range is at the memorial cross erected here after the liberation of Denmark in May 1945.
See Anders Lund at the crash site.
Over the years there have been many contacts between relatives of the airmen and the family on Åstrupgård. See Anders Lund: MY 7 FLYING HEROES and pieces of wreckage at the website Aastrupgaard. See also a Canadian website about Fitzgerald - one of many.

Sergeant (Wireless Operator/Air Gunner) William Alexander Holt, 20, from the United Kingdom,
was the son of Thomas William and Janet Temple Holt, of Gateshead, Co. Durham. (Source: CWGC)
The Lord giveth and the Lord taketh away. Blessed be the name of the Lord.
He is remembered on The Walls of Names at the International Bomber Command Centre, Ph1, P51.
See his name among 47 names in London and Horsens. See also Google Map HorsensEH47.
See No. 166 Squadron RAF * 166 Squadron RAF-Lincolnshire.info * Lancaster photos * p352MACR
Lancaster III LM694 AS-M2 took off from RAF Kirmington at 20.45 hrs on 26 AUG 1944.
(Source: Aircrew Remembered has this.) 7 airmen.