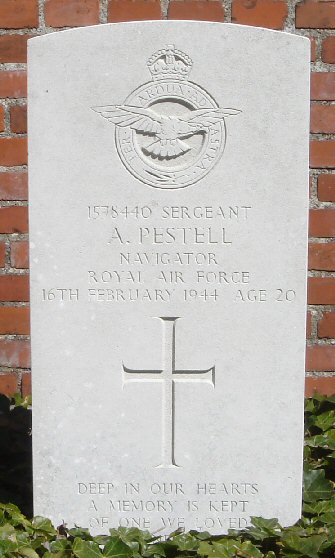 Arthur Pestell Updated: 07 OCT 2021
Airman: a021006.htm Surname: Pestell Init: A Rank: Sgt Service: RAF Sqdn: 97
P_link: p263.htm Plane: LAN ND478 Operation: Bomb G Crash_site: Faaborg
Crash_d: d150244 Buried_d: b180244 C_link: c021.htm At_Next: Faaborg

"Med Berlin som mål nedstyrtede Lancaster ND478 den 15. februar 1944 kl. 19.58 ganske tæt ved
Faaborg. Vraget splintredes i større og mindre dele over et 2 kvadratkilometer stort område på "Sundet"
og "Grevens Eng". Flyets bomber sprængtes med et vældigt brag, og ca. 100 store butiksruder i byen
blev sprængt." (FAF)

Se monument flyttet fra nedstyrtningsstedet til nuværende sted i 1996. 5 flyvere fra LAN ND478 er begravet
i Faaborg. 2 blev taget til fange. Se en propel fundet i "Sundet" og Lancaster fotos.
"De 4 dræbte flyvere, der opgives at være fundet ved Engvej, blev begravet den 18. februar 1944 af den tyske værnemagt uden gejstlig medvirken.
Byens borgere sendte et væld af blomster til flyvergravene, og provst M.P. Madsen holdt på kirkegården en mindehøjtidelighed, der blev overværet af mange mennesker. Hverken provsten eller følget lod sig anfægte
af, at der samtidig blev blæst flyvervarsel." (FAF)

Sergeant (Navigator) Arthur Pestell, 20 år, var søn af John James Pestell og af Florence E. Pestell, Washington, Co. Durham, United Kingdom. (Kilde: CWGC) 7 flyvere.



Targeting Berlin on a bombing raid LAN ND478 crashed on 15 February 1944 at 19.58 very near
Faaborg. Debris from the plane was scattered over an area of about 2 square km on "The Sound" and
"The Count´s Meadow". Bombs on the plane were detonated with an enormous bang, and about 100
big shop windows in the town were broken.

Sergeant (Navigator) Arthur Pestell, 20, was the son of John James Pestell, and of Florence E. Pestell,
of Washington, Co. Durham, United Kingdom. (Source: CWGC)
Deep in our hearts / a memory is kept / for one we loved / and will never forget
He is remembered on The Walls of Names at the International Bomber Command Centre, Phase 2, P 225.
5 airmen from LAN ND478 are buried in Faaborg. 2 became POWs and were taken to German POW-Camps.
See monument moved from the crash site to its present place in 1996. See a propeller found in "The Sound" and Lancaster Photos.
See No. 97 Squadron RAF - Wikipedia * 97 Squadron Association * RAF Pathfinders Archive: 97 Squadron Aircrew.
Lancaster III ND478 OF-Q took off from RAF Bourn at 1705 hrs on 15 FEB 1944. (Source: Aircrew Remembered has this.) See also p263MACR. 7 airmen.