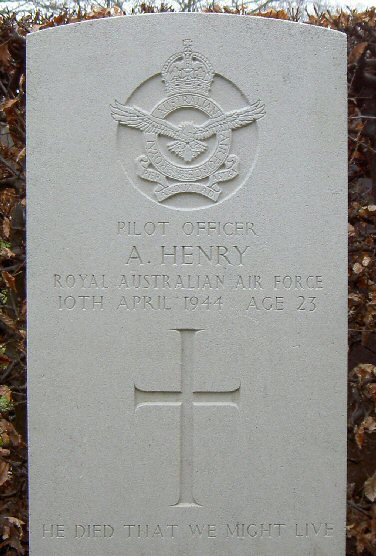 Andrew Henry Photo: Knud Riis Updated: 07 JAN 2022

Airman: a014210.htm Surname: Henry Init: A Rank: P/O Service: RAAF Sqdn: 460
P_link: p286.htm Plane: LAN JB600 Operation: Minelaying Crash_site: Near Torrild
Crash_d: d100444 Buried_d: b150444 C_link: c014.htm At_Next: Esbjerg, A. 7. 2

Han og 5 andre flyvere blev dræbt, da LAN JB600 styrtede ned nær Torrild, her. Se p286MACR.
En mand overlevede. De og 29 andre flyvere fra samme operation blev begravet i Esbjerg.
De 6 flyvere mindes på en mindetavle fra 1945 i Torrild Kirke.
Pilot Officer Andrew Henry, 23 år, var søn af John Patrick og Mary Alice Henry, Berrima,
New South Wales, Australien. (Kilde:CWGC)
Se hans navn blandt 47 navne i London og Horsens. Se også Google Map HorsensEH47 og
Google Map 460 Squadron RAAF-DK. Minelægningsområder og Lancaster fotos. 7 flyvere.



He and 5 other airmen were killed, when LAN JB600 crashed near Torrild, here.
One man survived. They and 29 airmen from the same operation were buried in Esbjerg.
The 6 airmen are commemorated on a memorial tablet from 1945 in Torrild Church.
Pilot Officer Andrew Henry, 23, was the son of John Patrick and Mary Alice Henry, of Berrima,
New South Wales, Australia. (Source: CWGC) Virtual War Memorial Australia has this.
He is remembered on The Walls of Names at the International Bomber Command Centre, Ph 1, P 48.
See his name among 47 names in London and Horsens. See also Google Map HorsensEH47.

See Google Map 460 Squadron RAAF-DK * See Lancaster * Lancaster photos * p286MACR.
No. 460 Squadron RAAF - Wikipedia * 460 Squadron - Bomber Command WW2 * Minelaying areas.
Lancaster III JB600 AR-O took off from RAF Binbrook at 21.26 hrs on 09 APR 1944.
(Source: Aircrew Remembered has this+Archive_Report) 7 airmen.