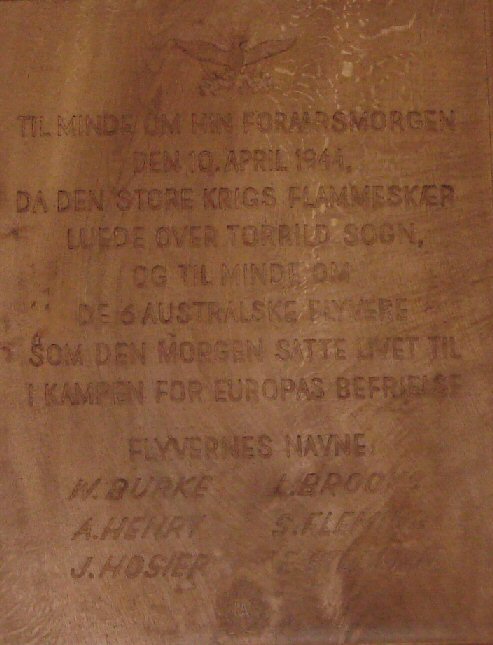 Lancaster III JB600 - Near Torrild -
Mindetavle - Memorial tablet Updated: 23 OCT 2017



Fra Krigens Monumenter, se også foto på Torrild Kirkes hjemmeside
(klik på kirken til højre og find mindetavlen):
Torrild Kirke, på skibets sydvæg, en mindetavle af eg fra 1945.
Tavlen blev opsat for midler indsamlet i sognet. Inskription:

Til minde om hin forårsmorgen
den 10. april 1944,
da den store krigs flammeskær
luede over Torrild sogn,
og til minde om
de 6 australske flyvere,
som den morgen satte livet til
i kampen for Europas befrielse.
Flyvernes navne:
W. Burke, A. Henry, J. Hosier,
L. Brooks, S. Fleming, E. Steedman

Se mere om LAN JB600 og alle 7 medlemmer af besætningen.

From KM. See also photo on the website of Torrild Church
(click on the church to the right and find the memorial tablet)
Torrild Church, on the south wall of the nave, a memorial tablet of oak from 1945.
Money for the tablet was collected in the parish. Inscription:
In remembrance of the spring morning
the 10th of April 1944,
when the flames of the great war
blazed over the parish of Torrild,
and in remembrance of
the 6 Australian airmen
who that morning lost their lives
in the battle for the liberation of Europe.
Names of the airmen:
W. Burke, A. Henry, J. Hosier,
L. Brooks, S. Fleming, E. Steedman
See more about LAN JB600 and all 7 members of the crew.