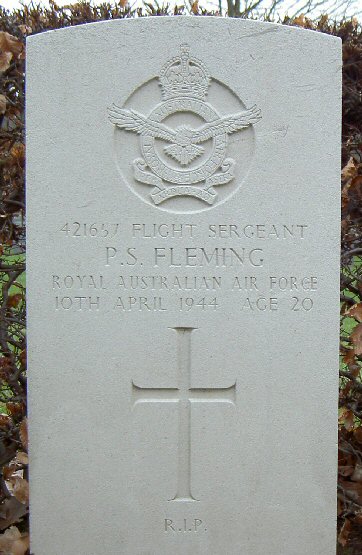 Paul Stuart Fleming Photo: Knud Riis Updated: 07 JAN 2022

Airman: a014209.htm Surname: Fleming Init: P S Rank: F/Sgt Service: RAAF Sqdn: 460
P_link: p286.htm Plane: LAN JB600 Operation: Minelaying Crash_site: Near Torrild
Crash_d: d100444 Buried_d: b150444 C_link: c014.htm At_Next: Esbjerg, A. 7. 17

Han og 5 andre flyvere blev dræbt, da LAN JB600 styrtede ned nær Torrild, her. Se p286MACR.
En mand overlevede. De og 29 andre flyvere fra samme operation blev begravet i Esbjerg.
De 6 flyvere mindes på en mindetavle fra 1945 i Torrild Kirke.
Flight Sergeant Paul Stuart Fleming, 20 år, var søn af David Richard og Doris Elsie Fleming,
Cremorne, New South Wales, Australien. (Kilde:CWGC)
Se hans navn blandt 47 navne i London og Horsens. Se også Google Map HorsensEH47 og
Google Map 460 Squadron RAAF-DK. Minelægningsområder og Lancaster fotos. 7 flyvere.



He and 5 other airmen were killed, when LAN JB600 crashed near Torrild, here.
One man survived. They and 29 airmen from the same operation were buried in Esbjerg.
The 6 airmen are commemorated on a memorial tablet from 1945 in Torrild Church.
Flight Sergeant Paul Stuart Fleming, 20, was the son of David Richard and Doris Elsie Fleming, of Cremorne, New South Wales, Australia. (Source: CWGC) Virtual War Memorial Australia has this.
He is remembered on The Walls of Names at the International Bomber Command Centre, Ph 1, Panel 36. See his name among 47 names in London and Horsens. See also Google Map HorsensEH47.

See Google Map 460 Squadron RAAF-DK * See Lancaster * Lancaster photos * p286MACR.
No. 460 Squadron RAAF - Wikipedia * 460 Squadron - Bomber Command WW2 * Minelaying areas.
Lancaster III JB600 AR-O took off from RAF Binbrook at 21.26 hrs on 09 APR 1944.
(Source: Aircrew Remembered has this+Archive_Report) 7 airmen.