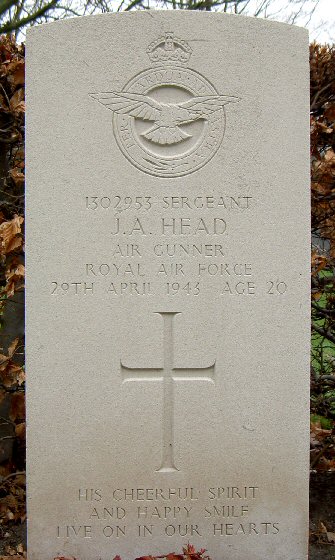 James Alfred Head Photo: Knud Riis Updated: 14 JUN 2018
Airman: a014147.htm Surname: Head Init: J A Rank: Sgt Service: RAF Sqdn: 218
P_link: p178.htm Plane: STI EF356 Operation: Minelaying Crash_site: Near Aadum
Crash_d: d290443 Buried_d: b240543 C_link: c014.htm At_Next: Esbjerg, A3. 7. 15

Den 29. april 1943 styrtede STI EF356 ned ved Aadum (der er her).
Flyet var sammen med mange andre fly på en stor minelægningsoperation over Østersøen og de danske farvande. Kl. 02.30 udsendte dette fly SOS signal over radioen, hvorpå man ikke hørte mere til flyet, der
styrtede ned ved Aadum.

P/O Holliman blev begravet i Esbjerg den 7. maj og Sgt Head samme sted den 24. maj 1943. (Kilde: FAF)

Dette Stirling bombefly styrtede brændende ned på en mark over for Rosendalvej 4, 6880 Tarm her, overblik her (Kilde: Hans Vestergaard i Flystyrt ved Aadum til Aadum lokalarkiv via Dagmar Vestergaard.)
Sergeant (Air Gunner) James Alfred Head, 20 år, var søn af Mr. og Mrs. J. R. H. Head, Hurstpierpoint,
Sussex, United Kingdom. (Kilde: CWGC)
4 flyvere fra STI EF356 blev begravet i Aadum og 2 i Esbjerg. 1 døde som krigsfange i Tyskland. 7 flyvere.

On 29 April 1943 STI EF356 crashed at Aadum (which is here).
Together with many other planes this plane was on a big minelaying operation over the Baltic Sea and Danish waters. At 0230 hours this plane sent SOS over the radio, and nothing more was heard from the plane which crashed at Aadum.

P/O Holliman was buried in Esbjerg on 7 May and on 24 May 1943 Sgt Head was buried in the same
cemetery. (Source: FAF)
This Stirling bomber crashed, burning, into a field opposite Rosendalvej 4, 6880 Tarm here, overview here.
(Source: Hans Vestergaard in Air crash near Aadum to Aadum lokalarkiv via Dagmar Vestergaard.)

Sergeant (Air Gunner) James Alfred Head, 20, was the son of Mr. and Mrs. J. R. H. Head, of Hurstpierpoint,
Sussex, United Kingdom. (Source: CWGC) His cheerful spirit and happy smile live on in our hearts
4 airmen from STI EF356 were buried in Aadum and 2 in Esbjerg. 1 died as a POW in Germany.

See No. 218 (Gold Coast) Squadron RAF * No. 218 (Gold Coast) Squadron Association * Short Stirling
Stirling I EF356 HA-O took off from RAF Downham Market at 2105 hours on 28 APR 1943. (Source: Aircrew Remembered has this.) 7 airmen.