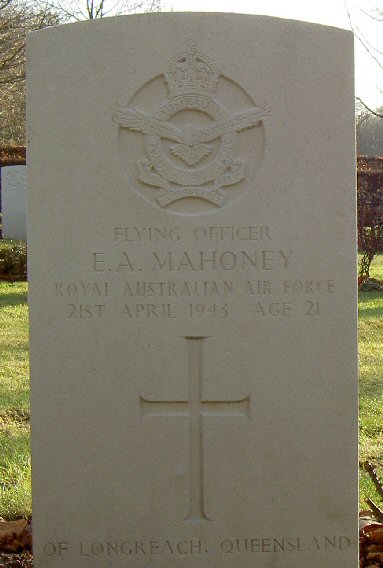 Edward Alan Mahoney Photo: Knud Riis Updated: 18 DEC 2016

Airman: a014139.htm Surname: Mahoney Init: E A Rank: F/O Service: RAAF Sqdn: 460
P_link: p163.htm Plane: LAN W4330 Operation: Bomb G Crash_site: Vestbirk
Crash_d: d210443 Buried_d: b300443 C_link: c014.htm At_Next: Esbjerg, A. 11. 21

"Natten mellem den 20. og 21. april 1943 angreb 339 RAF bombefly Stettin. Vejret var klart, og markeringen fra Pathfinders var perfekt. Ca. 40 ha af den centrale bydel blev ramt, og 13 fabrikker og
380 huse blev totalt ødelagt. 580 personer blev dræbt ved angrebet. Samtidig angreb 86 Stirlings Rostock. - Samtlige fly fløj ind over Danmark ved Esbjerg.- 13 Lancasters, 8 Halifax og 9 Stirlings gik tabt." (FT 88-32) Af dem gik 19 fly tabt over dansk område. 84 flyvere fra disse angreb har en kendt
grav i Danmark. Hertil kommer flyvere uden kendt grav, krigsfanger og flygtende.
"Kl. 03.30 vågnede flere beboere i Østbirk og Vestbirk, da W4330 kom flyvende i vestlig retning, i lav højde og forfulgt af en tysk natjager, der sendte den ene dødbringende salve efter den anden ind i det store bombefly. Pludselig brød Lancasteren i brand, og den havde retning mod de yderste gårde i Vestbirk, men det lykkedes piloten at trække flyet fri, og det styrtede ned ca. 400 m nord for Vestbirk Station. Flyet eksploderede og brændende vragrester blev spredt over et stort område, mens den
tyske natjager triumferende kredsede over det store bål. Hele besætningen omkom, og sammen med
30 andre flyvere fra 7 andre nedstyrtninger samme nat blev de begravet om formiddagen den 30. april
på Fourfeldt Kirkegaard ved Esbjerg. Det var den største jordfæstelse af allierede flyvere i Danmark under besættelsen." (FT 90-49-12)
Flying Officer Edward Alan Mahoney, 21 år, var søn af Allan Simon og Edith Mary Mahoney,
Gympie, Queensland, Australia. (Kilde: CWGC)
Se hans navn blandt 47 navne i London og Horsens. Se også Google Map HorsensEH47 og
Google Map 460 Squadron RAAF-DK. Se monument rejst på nedstyrtningsstedet her af egnens beboere.

Se også Kostbar gave på Hitlers fødselsdag - Horsens Folkeblad den 20. april 1988 og
De værner om fortiden - Horsens Folkeblad den 30. april 1996. Stettin+Rostock 20-21 April 1943.



Flying Officer Edward Alan Mahoney, 21, was the son of Allan Simon and Edith Mary Mahoney, of Gympie, Queensland, Australia. (Source: CWGC)
His name is among 47 names in London and Horsens. See monument erected here at the crash site by residents of the area.
"339 RAF bombers attacked Stettin on the night before 21 April 1943. The sky was clear, and the marking from Pathfinders was perfect. About 100 acres of the central
part of the city was hit, and 13 factories and 380 houses were totally destroyed. 580 persons were killed at the attack. At the same time Rostock was attacked by 86 Stirlings. - All planes entered Danish airspace at Esbjerg. 13 Lancasters, 8 Halifax and 9 Stirlings were lost." (FT 88-32) 19 of them were lost over Danish territory.
84 airmen from these attacks have a known grave in Denmark. Airmen with no known grave, POWs and EVDs must be added.
"At 03:30 a number of residents of Østbirk and Vestbirk woke up, when W4330 came flying west, very low and chased by a German night fighter, which sent bursts of
lethal bullets into the big bomber. Suddenly the Lancaster caught fire, and its direction was towards farms in the outskirts of Vestbirk, but the pilot managed to pull the plane off, and it crashed about 400 m north of Vestbirk (railway) Station. The plane exploded and burning debris were scattered over a big area, while the German night fighter triumphantly circled over the big fire. All of the crew perished. The airmen were together with 30 other airmen from 7 crashes buried before noon on 30 April in Fourfeldt Cemetery at Esbjerg. It was the greatest interment of allied airmen in Denmark during the occupation." (FT 90-49-12)
See also Expensive present on Hitler's birthday - Horsens Folkeblad on 20 April 1988 and They cherish the past - Horsens Folkeblad on 30 April 1996.
See Google Map HorsensEH47 and Google Map 460 Squadron RAAF-DK and Stettin + Rostock 20 - 21 April 1943. See also Lancaster photos.
See Bomber Command No. 460 Squadron RAAF* 460 Squadron - Bomber Command WW2* No. 460 Squadron - Australian War Memorial* No. 460 Squadron.
Lancaster I W4330 UV-H took off from RAF Breighton at 21.39 hrs on 20 APR 1943. (Source: Aircrew Remembered has this.) 7 airmen.