David L. Baker Photo: AS 25 MAY 2015 Updated: 17 AUG 2015 1948 - Ardennes, BELGIUM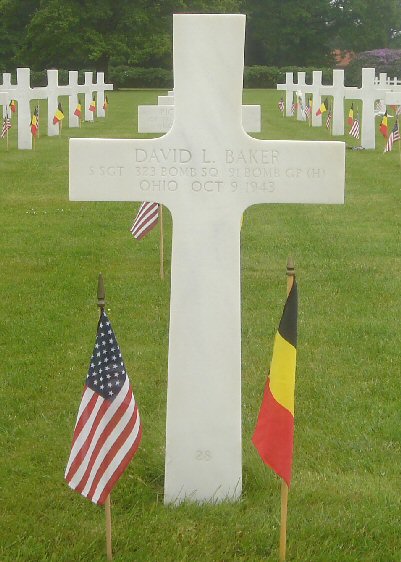 Airman: u097001.htm Surname: Baker Init: D L Rank: Sgt Service: USAAF Sqdn: 323
P_link: p232.htm Plane: B17 42-30772 Operation: Bomb G Crash_site: The Baltic Sea
Crash_d: d091043 Buried_d: b070244 C_link: c097.htm At_Next: (Søby)

"Den 9. oktober 1943 angreb USAAF med 378 4-motorede bombefly flyfabrikker i den østlige
del af Polen og Østpreussen, samt havnefaciliteter i Gdynia og Danzig. Både på udturen og hjemturen passerede formationerne Danmark, hvor tyske jagermaskiner angreb bomberne." (FAF)
Under en mission til Anklam i Tyskland den 9. oktober 1943 styrtede en "Flyvende Fæstning"
B17 42-30772 i Østersøen.
En af flyets skytter, D.L. Baker, blev af en dansk fisker fundet drivende mellem Ærø og Als,
måske omkring her. Begravelsen i Søby fandt sted 3 dage senere den 7. februar 1944 uden
gejstlig medvirken eller ceremonier af nogen art.
Da sognepræst H.S. Bårris forlangte at foretage begravelsen eller i det mindste være til stede
ved denne, blev han truet med nedskydning af en tysk løjtnant Rottgard fra Oldemarkslejren.
Den følgende søndag holdt sognepræsten mindegudstjeneste. Egnens befolkning havde da
dækket graven med et væld af blomster.
Opgravet den 26. april 1948 med kirkelig medvirken og ført til Ardennes American Cemetery i Belgien. (Kilde: FAF) Der er ikke nogen sten om ham på kirkegården.
Han blev begravet på Ardennes American Cemetery, Plot B Row 39 Grave 28.
Hæderstegn: Air Medal, Purple Heart. Han kom i tjeneste fra Ohio. (Kilde: ABMC)
6 flyvere fra B17 42-30772 har ingen kendt grav - se navne i CAM. 1 blev begravet i Søby og
1 i USA. 2 blev reddet og sendt til Tyske krigsfangelejre.
Se Tegning af besætningen på en B-17*Foto af en B-17 + B-17 i airmen.dk*B-17 Ball Turret, Ammunition og Ball Turret Gunner*B-17 Flyvende Fæstning. 10 flyvere.

"On 9 October, 1943 USAAF attacked aircraft factories in the eastern part of Poland and Eastpreussia together with harbour facilities in Gdynia and Danzig with 378 4-engined bombers.
Both on the way out and the way home the formations passed Denmark, where German fighters attacked the bombers." (FAF)
During a bombing raid to Anklam in Germany on 9 October, 1943 a "Flying Fortress" B17 42-30772 crashed in the Baltic Sea.
One of the gunners, D.L. Baker, was found by a Danish fisherman drifting between Ærø and Als, maybe around here. The burial in Søby took place 3 days later on 7 February, 1944 without ecclesiastical assistance or any kind of ceremonies.
When vicar H.S. Bårris demanded to carry out the burial or at least to be present at it, a German lieutenant Rottgard from the Oldemark barraks threatened to shoot him down. On the following Sunday the vicar held a memorial service. Residents of the area had then covered the grave with a sea of flowers. (Source: FAF)
Disinterred on 26 April, 1948 with ecclesiastical assistance and taken home to Ardennes American Cemetery in BELGIUM. (Source: FAF) There is no stone to him in the churchyard. Entered the Service from: Ohio. Buried at: Plot B Row 39 Grave 28, Ardennes American Cemetery.
Awards: Air Medal, Purple Heart. (Source: ABMC)

6 airmen from B17 42-30772 have no known grave - see names at CAM. 1 was buried in Søby and 1 in the USA. 2 were rescued and taken to German POW-Camps.
See Drawing of the crew of a B-17 * Photo of a B-17 + B-17s in airmen.dk * B-17 Ball Turret, Ammunition and the story of a Ball Turret Gunner.
This B-17 was from the 323rd Bomb Squadron of the 91st Bomb Group. See Dailies of 323rd Bomb Squadron. It took off from RAF Bassingbourn. 10 airmen.