Adolph Waluck Photo: AS 25 MAY 2015 Updated: 18 JUN 2015 1948 - Ardennes, BELGIUM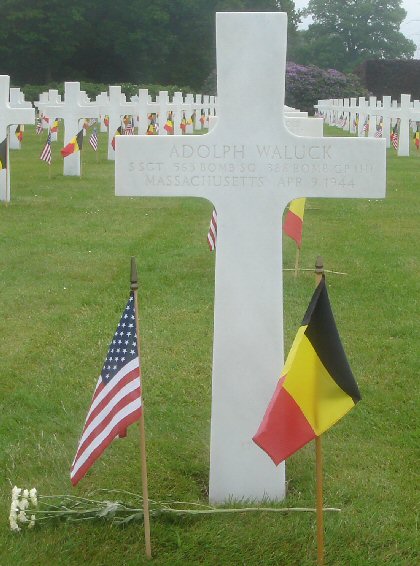 Airman: u096097.htm Surname: Waluck Init: A Rank: Sgt Service: USAAF Sqdn: 563
P_link: p283.htm Plane: B17 107076 Operation: Bomb G Crash_site: The Baltic Sea
Crash_d: d090444 Buried_d: b280644 C_link: c096.htm At_Next: Svinø

"Mere end 500 amerikanske bombefly passerede den 9. april 1944 hen over den sydlige del
af Danmark på vej til bombemål i Polen og Tyskland. En halv snes amerikanske fly nedstyrtede på Lolland eller i havet omkring Lolland-Falster. (Se 8 af de tabte fly:Google Map 9APR1944.)
Hen på eftermiddagen styrtede to fly i havet øst for Falster, et af dem ud for Bøtø. Fra det ene
af dem sprang to mand ud med faldskærm, fra det andet 5-6 mand.
Et af disse fly må antages at have været B17 107076 på vej hjem fra Poznan i Polen." (FAF)
En flyver fundet i juni 1944 og begravet på Svinø Kirkegård. Han opgives at være fundet ved/ ud
for Stovby. Sgt. A. Waluck blev fundet i vandet, måske omkring her.
Sergeant Adolph Waluck var Right Waist Gunner på B17 107076. (Kilde: MACR)
I 1948 blev han og andre Amerikanske flyvere fra Svinø flyttet til Ardennes American Cemetery
i Belgien for at blive overført til USA.. (Kilde: FAF) Kom i tjenesten fra Massachusetts.
Begravet på Ardennes American Cemetery Plot B Row 24 Grave 17 i BELGIEN.
Hæderstegn: Air Medal with 2 Oak Leaf Clusters. (Kilde: ABMC)
Se Monument for 46 amerikanske flyvere.

Se tegning af besætningen på en B-17, Foto af en B-17 + B-17 i airmen.dk samt
B-17 Ball Turret, Ammunition og Ball Turret Gunner. 10 flyvere.

"More than 500 American bombers passed the southern part of Denmark on 9 April, 1944
on their way to targets in Poland and Germany.
About 10 American planes crashed on Lolland or in the sea around Lolland-Falster. (See 8 of
the lost planes: Google Map 9APR1944.)
In the afternoon two planes crashed into the sea east of Falster, one of them off Bøtø.
Two men bailed out with parachutes from one of them, from the other 5-6 men.
One of these planes is considered to have been B17 107076 on its way back from
Poznan (here) in Poland." (FAF)
An airman was found in June 1944 and buried in Svinø Churchyard. Records say that he was found at/off Stovby.
Sgt A. Waluck was found in the water, maybe about here.
Sergeant Adolph Waluck was the Right Waist Gunner of B17 107076. (Source: MACR)
In 1948 he and other American airmen from Svinø were taken taken to Ardennes American Cemetery in BELGIUM to be transferred to the USA. (Source: FAF)
He stills rests there, Plot B Row 24 Grave 17. He entered the Service from Massachusetts. Awards: Air Medal with 2 Oak Leaf Clusters. (Source: ABMC)
See Monument to 46 American airmen.
See a drawing of the crew of a B-17, Photo of a B-17 + B-17s in airmen.dk and B-17 Ball Turret, Ammunition and the story of a Ball Turret Gunner.
This B-17 was from 563rd Bomb Squadron, 388th Bomb Group, 45 Combat Bombardment Wing, 1 Bombardment Division of 8 AF, USAAF.
See also 388th Bomb Group * 563d Flying Training Squadron * 388th Operations Group. It took off from RAF Knettishall - USAAF Station 136. 10 airmen.