Raymond E. Raley Photo: AS 25 MAY 2015 Updated: 18 JUN 2015 1948 - Ardennes, BELGIUM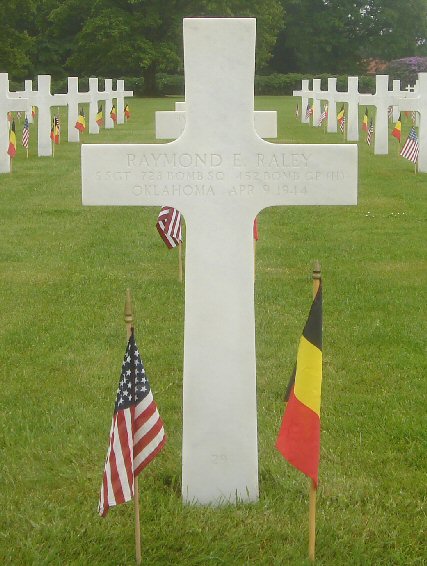 Airman: u096096.htm Surname: Raley Init: R E Rank: S/Sgt Service: USAAF Sqdn: 728
P_link: p280.htm Plane: B17 42-39936 Operation: Bomb G Crash_site: Near Meltofte
Crash_d: d090444 Buried_d: b130444 C_link: c096.htm At_Next: Svinø

Den 9. april 1944 styrtede B17 42-39936 ned ved Meltofte på Lolland. Se Google Map p280. Det var på hjemturen fra et bombetogt til Poznan (her).
Flyvehistorisk Tidsskrift skriver (navne fra MACR - Missing Air Crew Report):
"Under angreb fra flere FW 190 blev flyets to inderste motorer skudt i brand, og den midterste del af kroppen blev også ramt kraftigt, hvorved både navigator (2ndLt William D. Abernathy)
og left waist gunner (Raymond E. Raley) omkom. - - - Netop som S/Sgt. Charles F. Hopper (engineer/top turret gunner) sprang over Arninge, begyndte det tyske flak i Nakskov at skyde efter flyet, og han blev ramt i den ene arm af sprængstykker. Flyet fortsatte mod Halsted og eksploderede i ca. 200 meters højde, hvorefter vragdele styrtede ned nordøst for det
daværende alderdomshjem i Meltofte og ca. 1 km syd for landevejen mellem Nakskov og Maribo." (FT 86-91-25)
S/Sgt (Left Waist Gunner) Raymond E. Raley blev fundet i det udbrændte flyvrag. Hans lig blev ført til Nakskov og videre til Svinø Kirkegård. Han blev begravet den 13. april 1944.
I 1948 blev han og andre Amerikanske flyvere fra Svinø flyttet til Ardennes American Cemetery
i Belgien for at blive overført til USA.. (Kilde: FAF) Kom i tjenesten fra Oklahoma. Begravet på Ardennes American Cemetery Plot B Row 39 Grave 29 i BELGIEN.
Hæderstegn: Air Medal with Oak Leaf Cluster. (Kilde: ABMC)
Se Monument for 46 amerikanske flyvere.

3 flyvere fra B17 42-39936 blev begravet på Svinø, 1 på Agersø og 1 i Dannemare. 1 har ingen kendt grav. 4 blev krigsfanger.
Se B-17 Flyvende Fæstning * B17 i airmen.dk * tegning af besætningen på en B-17. 10 flyvere.

On 9 April 1944 B17 42-39936 crashed near Meltofte on Lolland. See Google Map p280. It was on the return flight from a bombing raid on Poznan (here).
(Danish) Aviation Historical Review writes (names from MACR - Missing Air Crew Report):

"The two inner engines of the plane caught fire after hits from a number of attacking FW 190s. Also the middle section of the fuselage was heavily hit and navigator
2ndLt William D. Abernathy and left waist gunner Raymond E. Raley perished. - - - Just as S/Sgt Charles F. Hopper (engineer/top turret gunner) bailed out over
Arninge, the German flak in Nakskov started firing at the plane and he was hit in one arm by splinters of shells. The plane flew on towards Halsted and exploded at
an altitude of about 200 m. Debris fell north east of the then Old People's Home in Meltofte and about 1 km south of the road between Nakskov and Maribo. -"
(FT 86-91-25)
S/Sgt (Left Waist Gunner) Raymond E. Raley was found in the burnt-out wreckage. His body was taken to Nakskov and then to Svinø Churchyard.
He was buried on 13 April 1944. (Source: AOD)
In 1948 he and other American airmen from Svinø were taken to Ardennes American Cemetery in BELGIUM to be transferred to the USA. (Source: FAF)
He stills rests there. Buried at Plot B Row 39 Grave 29. He entered the Service from Oklahoma. Awards: Air Medal with Oak Leaf Cluster. (Source: ABMC)
See Monument to 46 American airmen.

3 airmen from B17 42-39936 were buried in Svinø Churchyard, 1 in Agersø and 1 in Dannemare Churchyard. 1 has no known grave. 4 became POWs.
This B-17 was from 728 BS, 452 Bomb Group (Heavy), 45 CBW, 3 BD. See 452nd Bombardment Group.
It took off from RAF Deopham Green - USAAF Station 142. See also B17s in airmen.dk and a drawing of the crew of a B-17. 10 airmen.