David T. Emery Jr. Photo: AS 25 MAY 2015 Updated: 18 JUN 2015 1948 - Ardennes, BELGIUM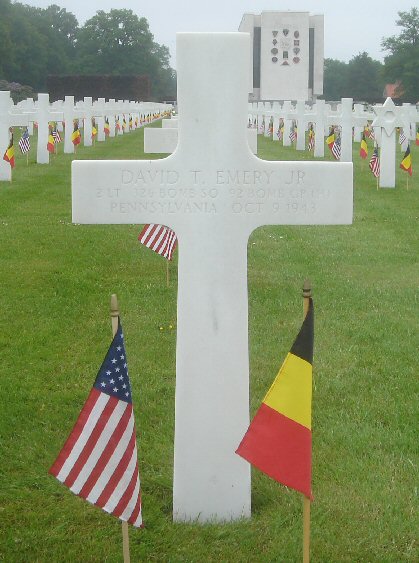 Airman: u050047.htm Surname: Emery Jr. Init: D T Rank: 2ndLt Service: USAAF Sqdn: 326
P_link: p241.htm Plane: B17 42-3554 Operation: Bomb G Crash_site: The North Sea
Crash_d: d091043 Buried_d: b161143 C_link: c050.htm At_Next: Lemvig

"Den 9. oktober 1943 angreb USAAF med 378 4-motorede bombefly flyfabrikker i den
østlige del af Polen og Østpreussen, samt havnefaciliteter i Gdynia (her)
og Danzig (Gdansk her). Både på udturen og hjemturen passerede formationerne Danmark,
hvor tyske jagermaskiner angreb bomberne." (FAF)
På hjemturen blev B17 42-3554 angrebet af tyske jagere. 5 flyvere sprang ud inden flyet eksploderede i luften omkring her 16 km syd sydvest for Blåvandshuk
den 9. oktober 1943 kl. 16.45. (Kilde: AOD)
Navigator 2nd Lt David T. Emery Jr. blev fundet ilanddrevet på Vestkysten nær Fjaltring (omkring her). Den 16. november 1943 blev han begravet i Lemvig af sognepræsten.
(Kilder: MACR + FAF)
Som alle andre amerikanske flyvere begravet i Lemvig blev han den 4. maj 1948 overført til Ardennes American Cemetery i Belgien.

2 flyvere fra B17 42-3554 blev begravet i Danmark, 3 har ingen kendt grav og 5 blev krigsfanger.
Se Tegning af besætningen på en B-17*Foto af en B-17 + B-17 i airmen.dk*
B-17 Ball Turret, Ammunition og Ball Turret Gunner * B-17 Flyvende Fæstning. 10 flyvere.

"On 9 October, 1943 USAAF attacked aircraft factories in the eastern part of Poland and East Preussia together with harbour facilities in Gdynia (here) and
Danzig (Gdansk here) with 378 4-engined bombers. Both on the way out and the way home
the formations passed Denmark, where German fighters attacked the bombers." (FAF)
On the return flight B17 42-3554 was attacked by German fighters. 5 airmen bailed out before the plane exploded in the air about here 10 miles south south west of Blåvandshuk on
9 October 1943 at 16.45 hours. (Source: AOD)
Navigator 2nd Lt David T. Emery Jr. was found drifted ashore near Fjaltring (about here).
On 16 November 1943 he was buried in Lemvig. The local vicar officiated at
the graveside ceremony. (Sources: AOD+ MACR + FAF) On 4 May 1948 he was disinterred and taken to the Ardennes American Cemetery in Belgium like all other American airmen buried in Lemvig. He still rests in Ardennes American Cemetery in Belgium. He entered the Service from: Pennsylvania.
Buried at: Plot B Row 39 Grave 4. Awards: Air Medal, Purple Heart with Oak Leaf Cluster. (Source: ABMC)

2 airmen from B17 42-3554 were buried in Denmark, 3 have no known grave and 5 became Prisoners of War.
See Drawing of the crew of a B-17 * Photo of a B-17 + B-17s in airmen.dk * B-17 Ball Turret, Ammunition and the story of a Ball Turret Gunner.
It took off from RAF Podington - USAAF Station 109. Also Lester Schrenk was in Podington. This B-17 was from 326th BS, 92nd BG, 40th CBW, 1 BD, 8 AF of the USAAF. See 92nd Bombardment Group (Heavy) and 92nd USAAF-USAF Memorial Association. 10 airmen.