Robert R. Helpes Photo: AS 25 MAY 2015 Updated: 18 JUN 2015 1948 - Ardennes, BELGIUM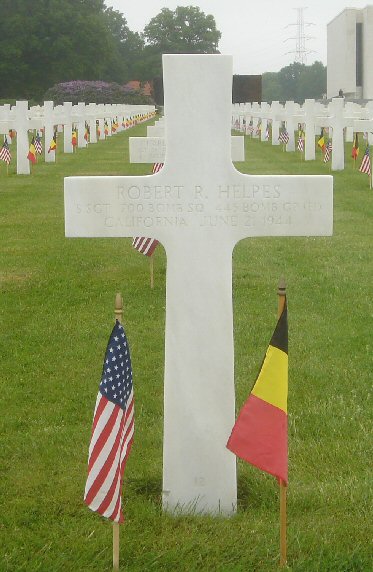 Airman: u028001.htm Surname: Helpes Init: R R Rank: Sgt Service: USAAF Sqdn: 700
P_link: p330.htm Plane: B24 42-50329 Operation: Bomb G Crash_site: Lillebælt
Crash_d: d210644 Buried_d: b140844 C_link: c028.htm At_Next: (Helnæs)

Under et bombetogt til Berlin styrtede B24 42-50329 i havet ved Årø i Lillebælt (omkring her -
Kilde: AOD) efter at de 10 flyvere var sprunget ud med faldskærm.
Se mere om en B-24 Liberator, som er større end en B-17 Flyvende Fæstning.
"Den 12. august 1944 fandt gårdejer Peter J. Runge, Helnæs, liget af en amerikansk flyver på stranden (omkring her) ved Lillebælt ud for "Bogården" lige syd for dæmningen til Helnæs. Man må formode, at denne flyver er identisk med ovennævnte.
R.R. Helpes blev begravet af den tyske værnemagt uden gejstlig medvirken den 14. august 1944.
Liget opgravet den 27. april 1948 og sendt til en kirkegård i Belgien." (FAF) Der er intet minde om ham
på kirkegården. Se kortet USAAF med alle amerikanske flyvere begravet i Danmark. (Hovedkilder: FAF
og AOD) Han er dog stadig begravet i Belgien. (Kilde: ABMC)
Han blev begravet på Ardennes American Cemetery, Plot B Row 39 Grave 12.
Han kom i tjeneste fra Californien. Hæderstegn: Air Medal med Oak Leaf Cluster. (Kilde: ABMC)

På Årø er dette monument for de omkomne. (Kilde: FAF) 10 flyvere.

During a bombing raid to Berlin B24 42-50329 crashed in the sea at Årø in Lillebælt (about here - Source: AOD) after the 10 airmen had bailed out.
See more about a B-24 Liberator, bigger than a B-17 Flying Fortress.
"On 12 August, 1944 farmer Peter J. Runge, Helnæs, found the body of an American airman on the
beach (about here) at Lillebælt near "Bogården" just south of the embankment to Helnæs. It must be assumed that this airman is identical with the above-mentioned airman.
R.R. Helpes was buried by the German Wehrmacht without ecclesiastical assistance on 14 August, 1944.
His body was disinterred on 27 April, 1948 and sent to a cemetery in Belgium." (FAF) There is no
memorial to him in the churchyard.
See the map USAAF with all American airmen buried in Denmark. (Main sources: FAF and AOD)
However, he still rests in Ardennes American Cemetery in BELGIUM. Buried at: Plot B Row 39 Grave 12.
He entered the Service from: California. Awards: Air Medal with Oak Leaf Cluster. (Source: ABMC)
This monument to the perished airmen is erected on Årø. (Source: FAF) See also memorial stone to William J. Mulligan in Sandager Churchyard.
This B-24 belonged to 700 BS, 445 BG, 2 CBW, 2 BD, 8 AF. See 445th Bomb Group (Heavy). It took off from RAF Tibenham - USAAF Station 124. 10 airmen.