William J. Mulligan Updated: 18 JUN 2015 W. J. Mulligan 1948 - Ardennes, BELGIUM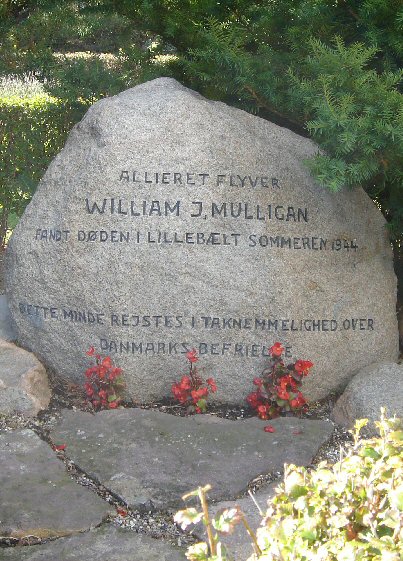 Airman: u080001.htm Surname: Mulligan Init: W J Rank: Sgt Service: USAAF Sqdn: 700
P_link: p330.htm Plane: B24 42-50329 Operation: Bomb G Crash_site: Lillebælt.
Crash_d: d210644 Buried_d: b280744 C_link: c080.htm At_Next: (Sandager)

Under et bombetogt til Berlin styrtede B24 42-50329 i havet ved Årø i Lillebælt (omkring her - Kilde: AOD) den 21. juni 1943 efter at de 10 flyvere var sprunget ud med faldskærm.

Se mere om en B-24 Liberator, som er større end en B-17 Flyvende Fæstning.

Den 28. juli 1944 drev W.J. Mulligan i land ved Sandager Næs (omkring her). Samme aften blev liget nedgravet på kirkegården uden gejstlig medvirken. Kirkegården var afspærret under begravelsen.
Efter at tyskerne var draget bort, samledes sognets beboere ved graven, der blev sunget 2 salmer og sognepræst Th. Skjerbæk bad en bøn.
Liget opgravet 20. april 1948 og ført til Belgien, men der er stadig denne mindesten!
Han blev begravet på Ardennes American Cemetery, Plot B Row 39 Grave 11.
Han kom i tjeneste fra Arkansas. Hæderstegn: Air Medal, Purple Heart. (Kilde: ABMC)

På Årø er dette monument for de omkomne. (Kilde: FAF) 10 flyvere.

Allied airman William J. Mulligan
found death in the Lillebælt in the summer of 1944.
This memorial was erected in gratitude for
the liberation of Denmark.
During a bombing raid to Berlin B24 42-50329 crashed into the sea at Årø in Lillebælt (about here - Source: AOD) after the 10 airmen had bailed out.
See more about a B-24 Liberator, bigger than a B-17 Flying Fortress.

On 28 July, 1944 W.J. Mulligan was washed ashore at Sandager Næs (about here). The burying of the body took place the same evening without ecclesiastical assistance. The churchyard was sealed off during the burial.
After the Germans had left residents of the parish gathered at the grave, 2 hymns were sung and vicar Th. Skjerbæk said a prayer.
The body was disinterred on 20 April, 1948 and taken to BELGIUM, but there is still this memorial stone!
He was buried at Ardennes American Cemetery, Plot B Row 39 Grave 11. He entered the Service from Arkansas. Awards: Air Medal, Purple Heart. (Source: ABMC)

This monument to the perished airmen is erected on Årø. (Source: FAF) See also memorial stone to William J. Mulligan in Sandager Churchyard.
This B-24 belonged to 700 BS, 445 BG, 2 CBW, 2 BD, 8 AF. See 445th Bomb Group (Heavy). It took off from RAF Tibenham - USAAF Station 124. 10 airmen.