Carl Carlson Photo: AS 25 MAY 2015 Updated: 08 JUL 2022 1948 - Ardennes, BELGIUM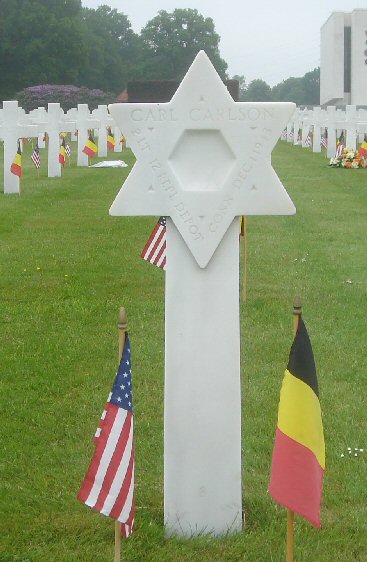 Airman: u019063.htm Surname: Carlson Init: C Rank: 2ndLt Service: USAAF Sqdn: 199

P_link: p246.htm Plane: STI EF154 Operation: Minelaying Crash_site: Near Hirsholmene

Crash_d: d011243 Buried_d: b081243 C_link: c019.htm At_Next: Frederikshavn

STI EF154 skulle kaste miner ved indsejlingen til havnen i Frederikshavn den 1. december 1943.
Flyet blev ramt af flak og styrtede ned i målområdet mellem Frederikshavn og øerne Hirsholmene
omkring her. Kort efter nedstyrtningen blev ligene af 3 besætningsmedlemmer bjærget, og de blev begravet på Frederikshavn Kirkegård den 8. december 1943.
4 besætningsmedlemmer har ingen kendt grav. (Kilde: FT 89-70-30) Mere i p246MACR.
2nd Lt Carl Carlson, USAAF, blev sammen med de andre amerikanske flyvere i Frederikshavn
opgravet den 1. maj 1948 og overført til Ardennes American Cemetery i Belgien. (Kilde: FAF)
Der blev han begravet, Plot B Row 39 Grave 8. Awards: Air Medal, Purple Heart.
Han kom i tjenesten fra Connecticut. (Kilde: ABMC) En af de få amerikanere i Bomber Command.
Den nat blev også STI EF191 skudt ned ved Hemmet i forbindelse med en minelægningsoperation, se Minelægningsområder og links derfra. Short Stirling. 7 flyvere.

STI EF154 was to drop mines at the entrance to the harbour of Frederikshavn on 1 December 1943. The plane was hit by flak and crashed in the drop zone between Frederikshavn and the islands Hirsholmene about here. The bodies of 3 crew members were recovered shortly after the crash, and
they were buried in Frederikshavn Cemetery on 8 December 1943.
4 crew members have no known grave. (Source: FT 89-70-30) More in p246MACR.
Together with the other American airmen in Frederikshavn Cemetery, 2nd Lt Carl Carlson USAAF
was disinterred on 1 May 1948 and transferred to Ardennes American Cemetery in Belgium.
He still rests in Ardennes American Cemetery in Belgium. He entered the Service from: Connecticut.
Buried at: Plot B Row 39 Grave 8. Awards: Air Medal, Purple Heart. (Source: ABMC)
He is remembered on The Walls of Names at the International Bomber Command Centre, Ph 2, P 141.
One of few Americans in Bomber Command.
That night also STI EF191 crashed at Hemmet in connection with a minelaying operation,
see Minelaying areas and links from there.
See No. 199 Squadron RAF- Wikipedia * Short Stirling. This Stirling took off from RAF Lakenheath.
Stirling III EF154 EX-V took off from RAF Lakenheath at 15:25 on 1 DEC 1943. (Source: Aircrew Remembered has this.) 7 airmen.