William J. Parker Photo: AS 25 MAY 2015 Updated: 18 JUN 2015 1948 - Ardennes, BELGIUM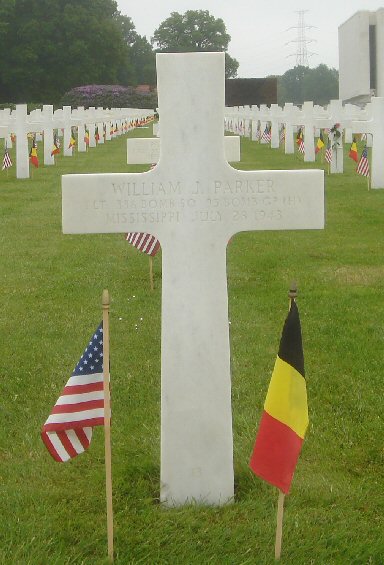 Airman: u014276.htm Surname: Parker Init: W J Rank: S/Sgt Service: USAAF Sqdn: 336
P_link: p197.htm Plane: B17 42-5882 Operation: Bomb G Crash_site: Sea off Heligoland
Crash_d: d280743 Buried_d: b220843 C_link: c014.htm At_Next: Esbjerg

Den 28. juli 1943 styrtede B17 42-5882 i Nordsøen ved Helgoland (der er her) under et
bombetogt til Oschersleben i Tyskland. Hele besætningen omkom.

Co-Pilot 1st Lt William J. Parker blev fundet drevet ind ved Højer Sluse (her - fremskudt dige
bygget 1979-81)
Han blev begravet i Esbjerg den 26. august 1943, fastslår AOD. FAF siger 22. august 1943.

Den 30. april 1948 blev han og andre Amerikanske flyvere fra Esbjerg flyttet til
Ardennes American Cemetery i Belgien. (Kilde: FAF)
Han kom i tjenesten fra Mississippi. Plot B Row 39 Grave 13. Hæderstegn: Air Medal, Purple Heart. (Kilde: ABMC)
1 flyver fra B17 42-5882 blev begravet i Esbjerg og 1 i USA. 8 flyvere har ingen kendt grav.
Se tegning af besætningen på en B-17, Foto af en B-17 + B-17 i airmen.dk samt B-17 Ball Turret, Ammunition og Ball Turret Gunner. 10 flyvere.

On 28 July 1943 B17 42-5882 crashed into the sea near Heligoland (which is here) on a bombing raid targeting Oschersleben in Germany. All of the crew perished.
Co-Pilot 1st Lt William J. Parker was found washed ashore near the the Højer Lock (here - the advanced seawall built 1979-81).
He was buried in Esbjerg on 26 August 1943, AOD states. FAF says 22 August 1943.

On 30 April 1948 he and other American airmen from Esbjerg were taken to Ardennes American Cemetery in BELGIUM. (Source: FAF) He entered the Service from Mississippi.
Plot B Row 39 Grave 13. Awards: Air Medal, Purple Heart. (Source: ABMC)
1 airman from B17 42-5882 was buried in Esbjerg and 1 in the USA. 8 airmen have no known grave.
See a drawing of the crew of a B-17, Photo of a B-17 + B-17s in airmen.dk and B-17 Ball Turret, Ammunition and the story of a Ball Turret Gunner.
This B-17 was from 336 BS, 95 BG, 13 CBW, 3 BD, 8 AF. See 95th Bomb Group Memorials Foundation. It took off from RAF Horham - USAAF Station 119.
10 airmen.