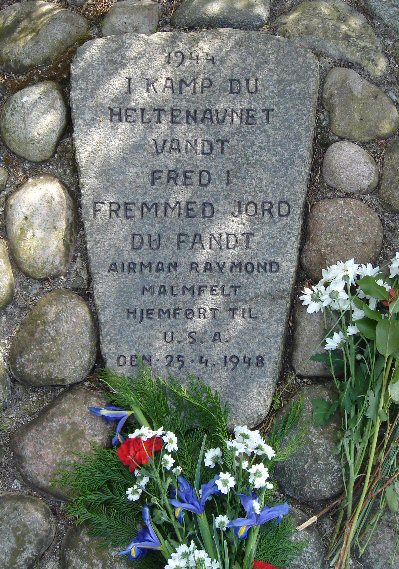 Raymond F. Malmfelt Updated: 20 FEB 2009
Airman: u010003.htm Surname: Malmfelt Init: R F Rank: S/Sgt Service: USAAF Sqdn: 550
P_link: p274.htm Plane: B17 42-31349 Operation: Bomb G Crash_site: Dannemare, Baltic Sea
Crash_d: d240244 Buried_d: b141044 C_link: c010.htm At_Next: Dannemare



1944. You won the name of a hero in battle. You found peace in foreign ground.
Taken home to the U.S.A. 25.4.1948.

B17 42-31349 styrtede ned 24. februar 1944 i forbindelse med et bombetogt til Rostock her.
"304 B-17 angreb Rostock, og 5 blev skudt ned. Før målet blev formationen angrebet af to Ju88,
der affyrede raketter ind i formationen. No. 1 motor blev ramt på B17 42-31349, der nu gled
langsomt ud af formationen. Yderligere tre tyske jagere angreb flyet og no. 3 motor brød i brand.
Flyet blev sidst observeret, da det forfulgt af en Ju88 og en Me110 gled ned mod et lavere
skydække. Syv udfoldede faldskærme blev observeret." (FT 86-90-20)
Et besætningsmedlem fra dette fly, R.F. Malmfelt, blev den 14. oktober 1944 fundet inddrevet
ved Østersødiget (Dannemare Høje her) og der nedgravet af den tyske værnemagt. "Omkring april 1945" foretog en præst indvielse af stedet, hvor Sgt Malmfelt lå. En mindesten skænket af seks borgere fra Nakskov blev senere anbragt på stedet. Hjemført til USA 1948, nu begravet på
Mount Olivet Cemetery, Mas-peth, New York, USA. (Kilde: FAF)

Fra B17 42-31349 blev 1 flyver begravet i Danmark, 1 i Tyskland og 1 i Belgien. 4 er begravet i USA og 3 har ingen kendt grav.
Se Tegning af besætningen på en B-17*Foto af en B-17 + B-17 i airmen.dk
B-17 Ball Turret, Ammunition og Ball Turret Gunner*B-17 Flyvende Fæstning. 10 flyvere.

B17 42-31349 crashed on 24 February 1944 in connection with a bombing raid to Rostock here.
"304 B-17s attacked Rostock, and 5 were shot down. Before the target the formation was attacked by two Ju88, which fired rockets into the formation. No. 1 engine was hit on B17 42-31349, which slowly glided out of the formation. Another three German fighters attacked the plane, and no. 3 engine caught fire. The plane was last observed, when it chased by a Ju88 and a Me110 glided down to a lower cloud cover. Seven opened parachutes were observed." (FT 86-90-20)

A crew member from this plane, R.F. Malmfelt, was on 14 October 1944 found drifted ashore at the Baltic Sea Dike (Dannemare Høje here) and buried there by the German Wehrmacht." A priest blessed the spot where Sgt Malmfelt lay and made it consecrated ground "about April 1945". A memorial stone was donated by 6 citizens of Nakskov at later placed on the spot. Taken home the USA 1948, now buried in Mount Olivet Cemetery, Mas-peth, New York, USA. (Source: FAF)
1 airman from B17 42-31349 was buried in Denmark, 1 in Germany and 1 in Belgium. 4 are buried in the USA and 3 have no known grave.
See Drawing of the crew of a B-17 * Photo of a B-17 + B-17s in airmen.dk * B-17 Ball Turret, Ammunition and the story of a Ball Turret Gunner.
B17 42-31349 was from 550 BS, 385 BG, 93 CBW, 3BD. 385th Bombardment Group. This B-17 took off from Great Ashfield - USAAF Station 138.
385th Bomb Group Memorial Museum * 385th Bomb Group Association. 10 airmen.