Robert M. Kimmey Photo: AS 25 MAY 2015 Updated: 18 JUN 2015 1948 - Ardennes, BELGIUM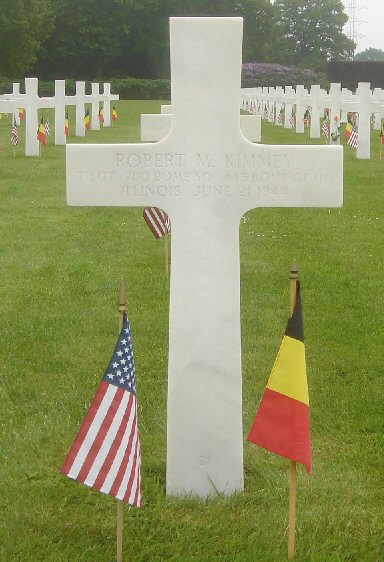 Airman: u003028.htm Surname: Kimmey Init: R M Rank: T/Sgt Service: USAAF Sqdn: 700
P_link: p330.htm Plane: B24 42-50329 Operation: Bomb G Crash_site: Lillebælt.
Crash_d: d210644 Buried_d: b040744 C_link: c003.htm At_Next: Assens

Under et bombetogt til Berlin styrtede B24 42-50329 i havet ved Årø i Lillebælt (omkring her - Kilde: AOD) efter at de 10 flyvere var sprunget ud med faldskærm.
Se mere om en B-24 Liberator, som er større end en B-17 Flyvende Fæstning.
Robert M. Kimmey drev i land som lig ved Helnæs. Han blev begravet i Assens den 4. juli 1944.
Den 28. april 1948 blev han og andre Amerikanske flyvere fra Assens flyttet til
Ardennes American Cemetery i Belgien. (Kilde: FAF)
Der er intet synligt minde for dem på Assens Kirkegård.
Han kom i tjeneste fra Illinois. Begravet i Ardennes American Cemetery Row 39 Grave 21. Hæderstegn: Air Medal. (Kilde: ABMC)

På Årø er dette monument for de omkomne. (Kilde: FAF) 10 flyvere.

During a bombing raid to Berlin B24 42-50329 crashed in the sea at Årø in Lillebælt
(about here - Source: AOD) after the 10 airmen had bailed out.
See more about a B-24 Liberator, bigger than a B-17 Flying Fortress.
The body of Robert M. Kimmey drifted ashore on Helnæs. He was buried in Assens on 4 July,
1944. On 28 April 1948 he and other American airmen from Assens were taken to
Ardennes American Cemetery in BELGIUM. (Source: FAF)
There is no memorial to them in Assens New Cemetery.
He entered the Service from Illinois. Buried at Ardennes American Cemetery Plot B Row 39 Grave 21. Awards: Air Medal with 2 Oak Leaf Clusters. (ABMC)
This monument to the perished airmen is erected on Årø. (Source: FAF)
See also memorial stone to William J. Mulligan in Sandager Churchyard.
This B-24 belonged to 700 BS, 445 BG, 2 CBW, 2 BD, 8 AF. See 445th Bomb Group (Heavy). It took off from RAF Tibenham - USAAF Station 124.
10 airmen.