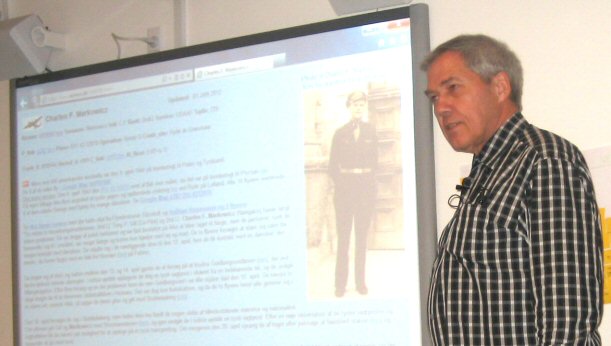 Stouby Lokalarkiv lavede en fin udstilling af
genstande, fotos og papirer omkring
flystyrt og flyvere nær Stouby.
Se dette om Hampden I AE300 og J.A.S. Philson
og dette om Wellington V Z1343.
Den 22. marts 2012 talte Anders Straarup
til 80 tilhørere på Stouby Skole om
allierede fly og flyvere - her Markowicz -
Hampden I AE300 og J.A.S. Philson
og Wellington V Z1343.



Stouby Lokalarkiv made a fine exhibition of
objects, photos and papers around
air crashes and airmen near Stouby.
See this about Hampden I AE300 and J.A.S. Philson
and this about Wellington V Z1343.

On 22 March 2012 Anders Straarup talked to
80 listeners at Stouby Skole about Allied planes
and airmen - here Markowicz - WEL Z1343,
Hampden I AE300 and J.A.S. Philson.

Den 23. marts 2012 skrev Mogens Dam fra Stouby Lokalarkiv:
Tusind tak for en fantastisk god foredragsaften i går. Det var en spændende og interessant beretning om en epoke i vor historie - og lokalhistorie.
Det var jo dejligt med det store fremmøde. Jeg har allerede fået mange tilbagemeldinger fra tilfredse tilhørere.

On 23 March 2012 Mogens Dam from Stouby Local Archives wrote,
Thank you very much indeed for an excellent lecture yesterday evening. It was an exciting and interesting account about an era in our history -
and local history. It was nice having a large attendance. I have already had a positive response from many members of the audience.