Air crash, escape and rescue
På dansk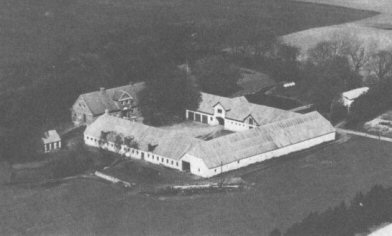 Updated: 10 DEC 2019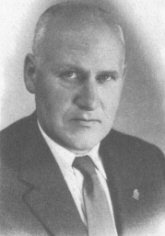 Vagn Vadgaard Kjær and Vadgaard

Google Map p369 Lancaster PB436 About LAN PB436
HJV about the plane*Photo of the crew*Operation 30 AUGUST 1944

Air crash, escape and rescue
from Barn af Himmerland 1978
by Vagn Vadgaard Kjær,
born 1913, the owner of Vadgaard in the parish of Strandby.


(He died in 1994)


In 1944 when this took place he was the farm foreman on the farm of his parents Sine and Frederik Kjær, Vadgaard.
A member of a group of the resistance movement designated to receive weapons from air drop operations.
An active member of the Danish Home Guard for many years.

Can you imagine what it must be like to be the only man in a huge burning bomber, still in the air but slowly and inevitably losing altitude over a foreign country with a population which speaks a language you cannot understand, a country occupied by the military power that your own country is fighting as a matter of life and death?

At the next moment there is only one thing to do: get out of the burning aircraft before it is too late. A leap into the big empty space hoping that the parachute will open
up properly.

Yes, the parachute did open up properly, but it caught fire from the burning bomber, so the landing was rough. You were knocked about and shocked, but the lines of
the parachute had to be pulled together and cut in a hurry, so that you could get disentangled. Then into a ditch heading for the crashed bomber which had exploded
with an ear-splitting bang, when it hit the ground – and disintegrated into thousands of pieces.

Shouts and voices were heard from a farm nearby. Covered by the darkness there is only one thing to do: get to the forest nearby before the Germans reach the
wreckage and start a search for possible survivors from the crashed bomber from the Royal Air Force.

On 29 August 1944 more than 600 British 4-engined bombers with more than 5,000 airmen took off from a number of airfields in England heading for a number of
targets in Germany. Among these planes were also 189 Lancasters from 5 Bomb Group. At 23.00 hours this formation was to start flying in at Nørre Vorupør on the
west coast of Jutland to follow a south easterly course over Jutland and South Sweden to reach Königsberg in East Prussia, their target that night.

When 5 Bomb Group had accomplished its operation here, the planes were to follow the same flight path back to their airfield in England.
(See Operation 30 AUGUST 1944 - routes and losses. 3 big operations at the same time should make attacks from German nightfighters less likely. AS)

The pilot of one of the Lancaster bombers was B. Loneon. He was an Australian. As his navigator he had H. W. D. Wilson, 19 years old and from Great Britain. 5 more men held the other crew positions in the big aircraft with the characteristic double rudder.

Having completed the mission over Königsberg F/O B. Loneon headed for home, passed South Sweden where the bomber was shot at and came to the Aalborg area where the plane had a hit which was assessed to be unimportant. However, after a short while fire was detected in the plane - and it proved to be impossible to put out.

At that time the plane was over the western Himmerland at the Trend Aa area heading west – and the pilot ordered his crew to abandon ship, that is to jump out with parachutes. The 5 men who bailed out first landed north of the stream Trend Aa near Sønderlade and Hyllebjerg. No. 6 to bail out was the navigator H. W. D. Wilson.
He landed just north of Vadgaard (but south of the stream). He dug down his parachute and headed south for Vadgaard. When he arrived here he gave up walking on
in daylight and instead he hid among the trees at the hen run at Vadgaard.

Pilot Loneon had thought that he might be able to cross the Limfjorden, but very soon he had to realize that it would be impossible. Then he turned the plane from
heading west to heading east and he came over Trend and Gunderupgaard. He nearly stayed on board too long – causing his parachute to catch fire when he bailed out.


The Lancaster bomber from 5 Bomb Group ended up in the soft meadow just north of the garden of Gunderupgaard – and blew up into a thousand pieces.

Vagn Kjær, then the farm foreman at his parents' farm, relates the events that followed on Vadgaard:


In the evening, when my father was going to shut in the hens, he was stopped by Wilson who made himself known to him, hoping for assistance from people on the farm.

Father took him into the kitchen. He was terribly dirty, very tired and also shocked by the shattering events.

Mother gave him something to eat, but nobody on this farm spoke English, so there was a problem.

The farmhands and I had gone to Gunderupgaard by curiosity – to see what might be left of the crashed English plane. German guards tried to keep curious people at a proper distance.

Of course it was a big surprise when I got home and found the English airman in the kitchen.

Wilson did not really know what this might lead to. By the way, later we found out that two days before he had reached nineteen.

In spite of the language barrier we managed to find out of a number of things.

By coincidence the Politiken's Who What Where 1943 had an illustration with a bomber with a crew of 8 standing in front of the plane.

Wilson immediately crossed out one man, meaning that the plane only had a crew of 7 on this occasion. Later it appeared that one man had fallen ill, so that he did not join the others on this final raid of the bomber. Then Wilson crossed out another one, pointing at himself. Then 6 airmen remained.

During the day I had heard that the Germans had fetched 5 British airmen in Hyllebjerg and Sønderlade – so I crossed out 5 men.

Wilson looked very terrified. It was obvious that he had the impression that all of the 5 had perished. I explained to him by holding my hands over my head that they had surrendered.

His spirits rose, but you could see that he was still worried. He shrugged his shoulders to make his point.

Wilson proved his skills as a navigator. On a small map I had found he immediately pointed out Vadgaard and also Gunderupgaard, where the plane had crashed.

Now he wanted to know if there was a bridge across the Little Belt. I confirmed that. Then there was the Great Belt. Not very well. No doubt that he was going to
Sweden. He thought that he would be able to swim across the Sound.

By then I had realized that we had to contact someone who was able to speak English. Pretty soon I came to think of our veterinary surgeon in Farsø, Axel Sonne.
(Axel Sonne was a central person in the resistance movement in the area. His son Per Sonne had been shot by the Germans 3 weeks earlier. AS) I called Sonne on
the telephone and gave him a vague explanation about a sick cow. Then the vet asked if it was a birth, and when I answered yes quickly, Sonne realized that something was going on and he promised to come right away.

I met the vet outside the farm. His assistant Laurids Hald was also in the car. I quickly briefed them about the situation.

Hald and I made certain that there was nothing suspicious around the farm. Later we learned that the Germans had searched the farms around the crash site, but our neighbour was the last one to be searched. Sonne now went inside and at first he had to establish that the man really was a British airman.

It was a difficult situation. My mother wanted Wilson to sleep in a bed, but Sonne thought that it was too risky, as German patrols were still everywhere.

Wilson, who was unable to follow what we were talking about, now had the problem translated. He immediately stated that he did not want to expose us on Vadgaard
to any risk. He was perfectly well aware that civilians who assisted "enemy" airmen, were severely punished by the Germans, so he asked for permission to sleep in
one of the outbuildings or somewhere else. Anything would be better than the English air raid shelters where he had frequently slept in the latest couple of years.

It was arranged that he could sleep in the hayloft while he was staying at Vadgaard. Of course everyone agreed that he had to be helped to go on as soon as possible.

In a couple of days the area became quieter. There were no longer so many Germans around, so in the late afternoon Wilson was taken to the farm house, had a bath
and a meal, and he listened to a radio broadcast in English.

Wilson had been provided with maps of France, Spain and Portugal. Some of them were printed on linen or silk, so that they could actually be used as scarves. He also had some very big French bank notes in case that he should be forced to bail out over – or force land in – France, so that he had money for an escape.

When we pointed out to him that he had not landed in France but in Denmark he laughed and said that it was typically English. (That was not quite right. Other English airmen who in the same night perished in the Louns Bredning (LAN PA163 AS) were all provided with maps of Denmark and Danish money.VVK)

The vet's daughter Else and assistant Hald came on their bikes from Farsø in the evenings a number of times and then there was a lot of chatter.

Sonne decided to sound out the newly appointed village constable in Farsø. Lilholt appeared to have good contacts in Copenhagen. About 10 days later 2 detective constables from Copenhagen came to Farsø.

Now Wilson was to leave Vadgaard and go to the vet's farm in Farsø. It had to be by bicycle, and Wilson thought that he could manage to ride a bicycle. It appeared
that he was not very smart at it. Assistant Hald and Else Sonne were to fetch him, and then the three of them were to return to Farsø together.

In Farsø a unit of German soldiers were on guard duty, all of them elderly people and not very military to look at – and when Wilson caught sight of them he nearly tumbled off his bike with laughter – his bike that he did not control very well before. Was he really facing the much feared enemy?

But what about the Australian pilot Loneon whose parachute caught fire when he bailed out?

The pilot went to the Trend Forest nearby and followed a forest road to the east until he found a shed which gave shelter to the sheep. He spent the night here. The next day he stopped a cyclist, a representative selling lubricating oil to farmers, who wanted to take a short cut through the forest.

The representative realized what kind of person was facing him and he took him to Vadhuset nearby and explained to the owner Herman Pedersen that it was an Englishman and that he needed something to eat.

Vadhuset and Vadgaard are about 500 m apart, and the airmen were that close to being united, but neither of them knew that the other was nearby. Loneon had some sandwiches, but it was impossible to keep him in the Vadhuset, so forest ranger Asmussen in the royal hunting lodge was contacted. Asmussen agreed to
accommodate him temporarily. (The hunting lodge at Trend was owned by Crown Prince Frederik and Crown Princess Ingrid. The family still use the hunting lodge. Loneon spent the night in the Gamekeeper's house at the Royal hunting lodge. Source: V. Damgaard Hansen)

In that way the pilot spent the night in royal surroundings, but the next day there were reports of German patrols at the fence and at the gate to the hunting lodge. Obviously it would be embarrassing, if a pilot of the Royal Air Force were found on the domain of the Danish Crown Prince, so Loneon had to take to the roads again.
He followed the road heading south – and he came to Stistrup at Risgårde Bredning, where he went to smallholder T. Chr. Jensen.

Mrs. Jensen went to Farsø to the vet and asked him, if he could help them with the English airman who had followed the road to their house and was now staying with them. The vet was pleased to help him - and Loneon was taken to the vet farm in Farsø on the bottom of the vet's car.

(Veterinary surgeon Bent Sonne in Farsø mentioned on 16 June 2011 that his father used to say that one afternoon a woman was sitting in the waiting room. "We
have an American staying with us, and those murderers and scoundrels must not get him!" Of course she knew that the vet's son Per Sonne had been shot by the Germans 3 weeks earlier, and that it was likely that Axel Sonne would help. AS)

On purpose Wilson had not been told that the pilot had also been picked up, and that he was going to see him in Farsø. The joy of the reunion was very great. They
had a lot to talk about.

The next day they took off on their journey to Copenhagen (and Sweden). Now you have to remember that it was impossible to travel across the country as a matter of course. All passengers were examined by the Germans in both Nyborg and Korsør – and very often there were checks in the trains during the journey.

But chief detective constable Sigvald Pedersen, who was from the Farsø area, and detective constable Knud Nielsen, Copenhagen, had reported that they were ill – and they travelled to Farsø for the two Englishmen. A compartment in the train was booked for a transport of prisoners Aalborg-Copenhagen. The Englishmen were provided with false Identity Cards and names they had learned by heart. Village constable Lilholt and veterinary surgeon Sonne took the four men to Hobro in their cars.

It was a big surprise when the train arrived at the railway station in Hobro and proved to be a troop transport train with German soldiers on their way south, but the
booked compartment was OK. An extremely polite German officer even visited them and asked which crimes the two criminals had committed.

In Fredericia they changed to an ordinary passenger train – and the Great Belt the Danish police officers successfully managed the check by identitying themselves as »Kriminalpolizei mit Arrestanten« (criminal police with prisoners).

In Copenhagen the policemen handed their two "prisoners" over to the Danish resistance movement – and on 12 September 1944 Loneon and Wilson were taken on a transport of refugees along the illegal transport routes across the Sound to Sweden – and from there to England right away.

Shortly after 5 May 1945 Wilson sent a letter to the family on Vadgaard.

Among other things he told us that his 5 other pals from the crashed bomber – as expected – had been taken to German prisoner of war camps. They had all come
home now in a fairly good condition.

Wilson and Loneon had not been on more bombing raids over occupied Europe. It had become their job to travel to airfields in England and tell the crews there how they had a lucky escape from their air crash, how civilians had helped them and how by the effort of the resistance movement they had been helped to evade to Sweden and from there back to England.

Wilson ended his letter: Now only Japan is left – and then we are back in the air again.

However, the bomb over Hiroshima on 6 August 1945 and Japan's subsequent surrender on 14 August 1945 meant that Wilson did not go on any more bombing raids.