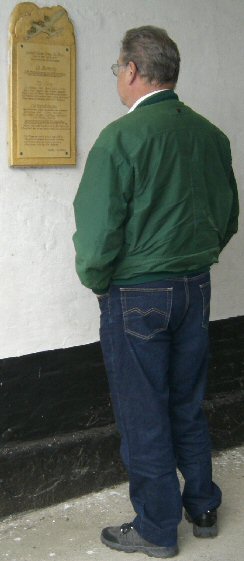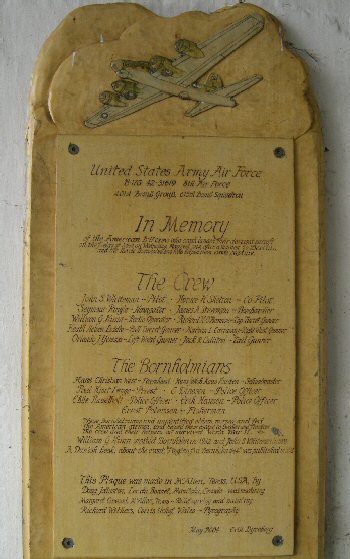 B 17G 42-31619
Sosegård, Bornholm
Memorial Plaque
Photos from Erik Dyreborg Updated: 21 FEB 2009

Mindetavle sat op i vognporten til
Sosevejen 11, 3720 Aakirkeby her afsløret maj 2004.
Erik Dyreborg studerer mindetavlen.
Han skrev bogen Flugten fra Bornholm 1944
udgivet 2001.

Se øverste halvdel og nederste halvdel og kort m.m.
Fra basen til Bornholm og De 10 flyveres flugtruter
Se en officiel tak fra General Dwight D. Eisenhower
til en af hjælperne.
B17 42-31619 nødlandede nær denne gård,
ca. 1600 m mod sydvest her.

Memorial plaque placed in the gateway to
Sosevejen 11, 3720 Aakirkeby here unveiled May 2004.
Erik Dyreborg studies the plaque.
He wrote the book Flugten fra Bornholm 1944
published 2001.
(The story The Escape from Bornholm 1944
is included in his book The Lucky Ones)
See the top half and the bottom half and maps
From base to Bornholm and Escape routes.
See the citation from General Dwight D. Eisenhower
to one of those who helped.
B17 42-31619 crash landed near this farm,
about 1 mile to the southwest here.