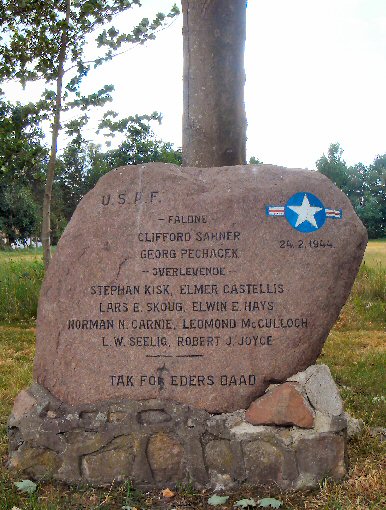 Mindesten for besætningen på B17 42-31561 rejst her i mindelunden ved
Øster Højst Forsamlingshus, Kløvervej 10, 6240 Løgumkloster.
Inskription på bagsiden: Rejst af danske.
"En flyvende fæstning, B-17, nødlandede ved Øster Højst efter bombetogt til Polen.
Stenen blev afsløret 5.5. 1950 og må være den eneste af sin art i landet, hvor også
de overlevende flyvere er nævnt." (KM, 1999) Se HAL LL235 og HAL MZ393 begge fra 2005.
Se også den lange version af flystyrtet.

Memorial stone to the crew of B17 42-31561 erected here in the memorial grove
at Øster Højst Forsamlingshus (Village Hall), Kløvervej 10, DK-6240 Løgumkloster.
"U.S.A.F. 24.2 1944
Fallen
Clifford Sahner, Georg Pechacek
Survivors
Stephan Kisk, Elmer Castellis
Lars E. Skoug, Elwin E. Hays
Norman N. Carnie, Leomond McCulloch
L.W. Seelig, Robert J. Joyce

Thank you for your deed.
On the back of the stone: Erected by Danes."
"A flying fortress, B-17, made a forced landing at Øster Højst after a bombing raid
to Poland.
The stone was unveiled 5.5 1950 and must be the only one of its kind in this
country, where also the surviving airmen are mentioned." (KM, 1999)
See HAL LL235 and HAL MZ393, both of them from 2005.
See also the long version of the crash.