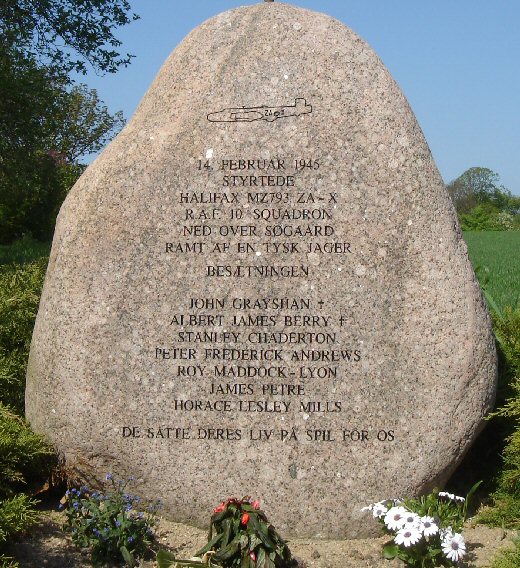 Halifax III MZ793 - At Sdr. Asmindrup
Monument Updated: 03 DEC 2018



Monument rejst her ved Gl. Skovvej 110, 4300 Holbæk for besætningen
på HAL MZ793 afsløret 4. maj 2005 i overværelse af bl.a. 3 af de overlevende besætningsmedlemmer,
Horace Lesley Mills, James Petre og Peter Frederick Andrews.
Se bogen Styrtet ned af Dan Ch. Christensen,
udgivet af Frihedsmuseets Venners Forlag, 2000.

Overlevende mindes også ved B17 42-31561 1950 og HAL LL235 2005.

Monument erected here at Gl. Skovvej 110, DK-4300 Holbæk to the
crew of HAL MZ793 unveiled 4 May, 2005.
Among others 3 of the surviving members of the crew were present!
Horace Lesley Mills, James Petre and Peter Frederick Andrews.

See the book The crash by Dan Ch. Christensen,
edited by Friends of the Danish Resistance Museum Publishing, 2000.

14 February, 1945 Halifax MZ 793 ZA-X, R.A.F. 10 Squadron
crashed over Søgaard hit by a German fighter.
The crew
John Grayshan (deceased)
Albert James Berry (deceased)
Stanley Chaderton
Peter Frederick Andrews
Roy Maddock-Lyon
James Petre
Horace Lesley Mills
They put their lives at risk for us.
YouTube video 37:20 Halifax MZ 793 - Lecture by crew members
Peter Andrews and Jim Petre introduced by Dan Ch. Christensen.
Survivors are also remembered at B17 42-31561 1950 and HAL LL235 2005.