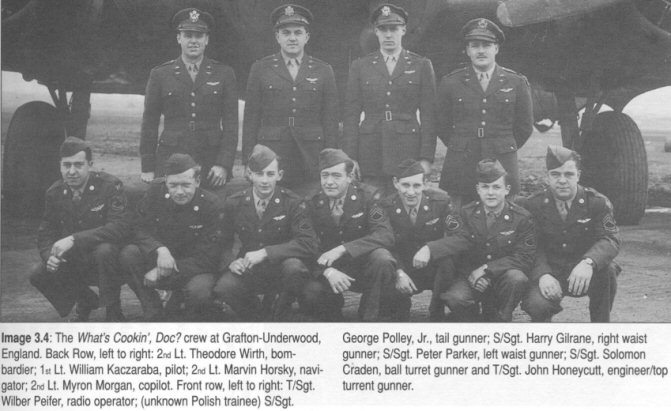 Fra artikel af Helge Christiansen i
Kalundborg Folkeblad den 8. januar 1994:
"Den meget erfarne pilot, flyverkaptajn William Kaczaraba valgte at flyve til Sverige. De blev imidlertid også angrebet af tyske jagere, og den tyske Leutnant Stock havde flere træffere, så
deres motorer efterhånden satte ud. De var
kommet langt ned, at det var umuligt at springe
ud med faldskærm, så de blev meget glade, da
de kunne se den sjællandske kyst. Det lykkedes piloten at foretage en perfekt mavelanding på spidsen af halvøen Asnæs (her overblik her), selv
om de til sidst kun havde en motor i gang.
Mærkværdigvis brød maskinen ikke i brand, men
så snart de alle 10 var kommet ud i god behold, satte de ild til maskinen. Det var ved middagstid
kl. 12.30. De forsøgte at flygte fra stedet. På den første gård blev de afvist, men det var uden betydning. På en halvø var de uden flugtmulig-
heder. Brandskæret kunne ses vidt omkring, og
kl. 14.15 blev de alle taget til fange af tyskerne. Inden aften blev de kørt til Værløse Flyveplads, hvorfra de næste dag blev fløjet til lufthavnen ved Dulag Luft Oberursel. Herfra kom Theodore Wirth
i krigsfangelejr sammen med 3 andre officerer, og alle 4 kom tilbage til USA efter krigen." Se også Fotos af B17 42-5838 og Wirth samt Tyske krigsfangelejre.



From an article by Helge Christansen in the newspaper Kalundborg Folkeblad on 8 January 1994:
"The very experienced pilot, Captain William Kaczaraba decided to fly to Sweden. However, they were also attacked by German fighters. The German Leutnant Stock
hit them several times, and gradually the engines misfired. They had descended so much that it was impossible to bail out, so they were very happy when they saw
the coast of Zealand. The pilot managed to make a perfect belly landing on the tip of the peninsula Asnæs (here overview here), even if at last they only flew on one engine. Oddly enough the plane did not catch fire, but as soon as all of the 10 airmen had left the plane safely, they set it on fire. It was about noon at 12.30 hours.
They tried to evade from the site. They were turned away from the first farm, but that was unimportant. They had no chance to escape from a peninsula. The glare of
the fire could be seen far away. At 14.15 hours all of them were captured by the Germans. In the afternoon they were taken to Værløse Airfield. The next day they
were flown from here to the airport at Dulag Luft Oberursel. From here Theodore Wirth and 3 other officers were taken to a POW camp. They all returned to the USA
after the war."
See also German POW-Camps and Photos of B17 42-5838 and Wirth.