B 17F 42-5838 - Asnæs - Photos of B17 42-5838 and Wirth from Helge Christiansen Updated: 20 MAR 2016


Foto af Mad Money II B17 42-5838 i bogen
A Dying Breed af Neal B. Dillon.
Det var det sidste af de oprindelige fly i
384th Bomb Group. Se Foto af besætningen.
Se også Tab af liv og Happy Ending.
Foto af Wirth fra artikel af Helge Christiansen i Kalundborg Folkeblad den 8. januar 1994.
Billedtekst: "Theodore M. Wirth i en mere fredelig
tid end 1944 fotograferet på sin mejetærsker på
sin farm i Nebraska i 1979."
I 1993 fortalte Wirth detaljer om høsten det år
til Helge Christiansen.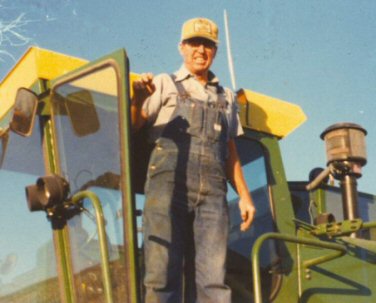 I 1944 så Tyge Olsen B17 42-5838 kredse over området inden flyet mave landede her kun omkring
100 m fra ham. Han så piloten antænde maskinen. Tyge og hans bror kom en dag hjem med
bælter med Ammunition fra flyet. Det kunne deres far slet ikke lide!

Photo of Mad Money II B17 42-5838 in the book A Dying Breed by Neal B. Dillon.
It was the last of the 384th Bomb Group's original planes.

See also Photo of the crew of B17 42-5838, Loss of Lives and Happy Ending.
Photo of Wirth from an article by Helge Christiansen in the newspaper Kalundborg Folkeblad
on 8 January 1994.
Caption: "Theodore M. Wirth in a more peaceful time than 1944 seen on his combine on his farm in Nebraska in 1979." In 1993 Wirth told details about the harvest that year to Helge Christiansen.
In 1944 Tyge Olsen saw B17 42-5838 circle over the area before it made a belly landing here only
about 100 m from him. He saw the pilot set fire to the plane. One day Tyge and his brother came
home with belts of Ammunition from the plane. Their father did not like that!!!