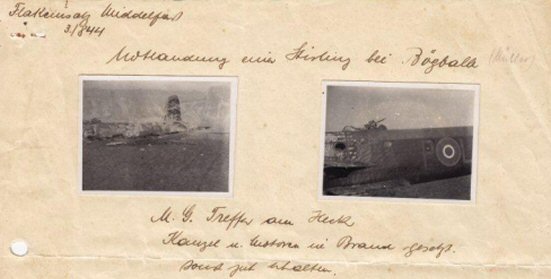 Hans Hermann Müller's Photos of
Stirling III BF476 LS-P
Updated: 06 MAY 2013
Scan by and from Uffe Bregendahl, TV/MIDT-VEST.

"Flakeinsatz Middelfart 3./844
Notlandung einer Stirling bei Bögballe
M.G. Treffer am Heck. Kanzel und Motoren in Brand gesetzt.
Sonst gut erhalten.
aufgenommen am 21.4.43
von Noch (?), Zb (?)"
Stettin + Rostock 20 - 21 April 1943
2 Stirlings 1 km and about 10 minutes from each other.
This one came down here 1 km south of the other and
about 10 minutes later - both of them south of Bøgballe here.


STI BF476 blev skudt ned af Oberleutnant Hans Hermann Müller.
Denne side af hans scrapbog blev scannet af Uffe Bregendahl fra
TV/MIDT-VEST i forbindelse med TV om Sgt Schrenk og HHM.
Siden blev læst og oversat af KK 5. januar 2013.
"Luftværnsaktion Middelfart 3./844
En Stirlings nødlanding ved Bøgballe
Ramt af maskingeværild i bagpartiet. Cockpit og motorer sat i brand.
Ellers velbevaret. fotograferet d. 21.4.43 af Noch (?), Zb (?)"
Stirling III BF506 AA-P styrtede ned her ved Bøgballe 03.26.
Stirling III BF476 LS-P nødlandede på Kragelund Fælled kl. 02.46,
skudt ned af HHM, se Fotos fra nedstyrtningsstedet og Flere fotos.



STI BF476 was shot down by Oberleutnant Hans Hermann Müller.
This page from his scrap book was scanned by Uffe Bregendahl from
TV/MIDT-VEST in connection with TV about Sgt Schrenk and HHM.
The page was read and translated by KK on 5 January 2013.
"Antiaircraft action Middelfart 3./844
Stirling force landed near Middelfart. Hit by machine gun fire in the rear. Cockpit and motors caught fire. Otherwise well preserved
photos taken on 21 April, 1943 by Noch(?), Zb(?)"
At 03.26 hrs Stirling III BF506 AA-P crashed here near Bøgballe.
At 02.46 hrs Stirling III BF476 LS-P force landed in Kragelund Fælled
shot down by HHM, see Photos from the crash site and More photos.