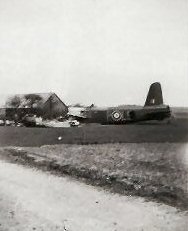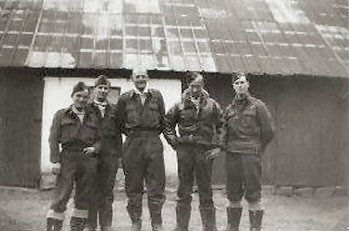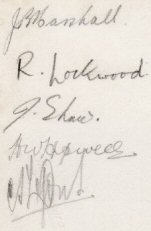 STI BF476 lavede en mavelanding
her på Kragelund Fælled
den 21. april 1943 kl. 02.46.

Se Fotos fra nedstyrtningsstedet
og Flere fotos - fra Vejle Stadsarkiv.

STI BF476 made a wheels up landing
here in Kragelund Fælled
on 21 April 1943 at 02.46 hours.
See Photos from the crash site and
More photos - from the Vejle Stadsarkiv.

H.W. Hipwell * J.R. Marshall * C.S. Lyons * J. Shaw * R. Lockwood

Efter landingen blev disse flyvere ude ved flyet, hvor de drak deres medbragte te og spiste sandwiches. Derpå skød de ind i motorerne, som brød i brand.
Det lykkedes disse fem flyvere at gå 15 km mod nord ad Bygholm Å. Undervejs delte de gavmildt ud af tyggegummi og chokolade.

Om formiddagen den 22. april blev de opdaget i en lade mellem Vinten og Vinten Skov (måske omkring her) og politiet i Horsens blev tilkaldt.
En pressefotograf tog et billede af de 5 flyvere. Han skyndte sig at få billedet fremkaldt og at få autografer fra flyverne, inden de blev sendt til Tyske krigsfangelejre.

After the crash landing these airmen stayed at the plane, where they had tea and sandwiches, which they had brought along. Then they shot into the engines,
which caught fire. These 5 airmen managed to walk 15 km to the north along Bygholm Stream. On their way they generously distributed chewing gum and chocolate.

Before noon on 22 April they were discovered in a barn between Vinten and Vinten Forest (maybe about here) and the police in Horsens were called.
A press photographer took a photo of the 5 airmen. He managed to have the photo developed in a hurry and to have autographs from the airmen, before they
were taken to German POW-Camps.