Grønhøj - kartoffeltyskere - potato Germans Photos by AS on 25 AUG 2012 Links Updated: 27 AUG 2012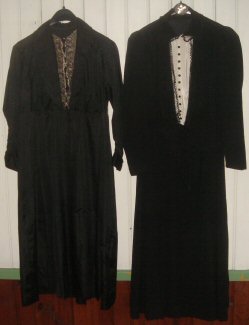 LAN R5679 styrtede ned omkring 1300 m vest for Grønhøj Kro, se fotos fra nedstyrtningsstedet.
En udstilling om kartoffeltyskere ses i det røde hus ved siden af kroen.
Danskere kendte ikke kartofler, før de blev medbragt af de inviterede indvandrere. En meget nyttig grønsag!

Modellen af en kartoffeltyskergård i 1:20 er udført af Jørgen Lind, Frederiks.
Gården blev opført i Havredal i 1760, nedrevet i 1915.
Kjolerne har tilhørt Edel Harritz, Firehuse.



LAN R5679 crashed about 1300 m west of Grønhøj Kro - see photos from the crash site.
An exhibihition about potato Germans is found in the red house next to the inn.
Danes did not know potatoes until they were taken here by the invited immigrants. A very useful vegetable!

The model 1:20 of a farm belonging to a family of potato Germans was made by Jørgen Lind, Frederiks.
The farm was built in Havredal in 1760 and demolished in 1915.
The dresses belonged to Edel Harritz, Firehuse. (Fire huse = four houses)