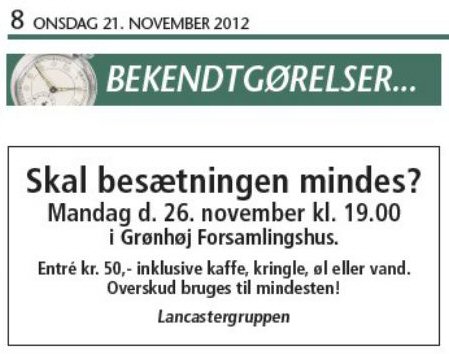 Annonce uge 47 21 NOV 2012 i UGE-AVISEN KARUP.
Se også artiklen Flybesætning mindes samme dag.

Se Links om LAN R5679 og siden Monument? med mere om mindestenen.

Opslag i området har denne meget vigtige tilføjelse:

Tilmelding til Arne Stick, tlf. 23 74 89 59,
senest lørdag den 24. november 2012.


Advertisement in the UGE-AVISEN KARUP on 21 NOV 2012.
See also the article Aircrew commemorated on the same day.
See Links about LAN R5679
and the page Monument? with more about the memorial stone.
Posters in the area have this very important addition:
If you would like to participate, call Arne Stick,
tel. 23 74 89 59, before 25 NOV 2012.
Wednesday 21 November 2012 - Advertisements

Should the crew be commemorated?
Monday 26 November at 19.00 in Grønhøj Village Hall.
Admission kr 50 including coffee, cake, beer or soft drinks. The surplus will be spent on the memorial stone!

The Lancaster Team