Hampden I P5330 - Sønderby Bjerge - Monument Updated: 04 JAN 2020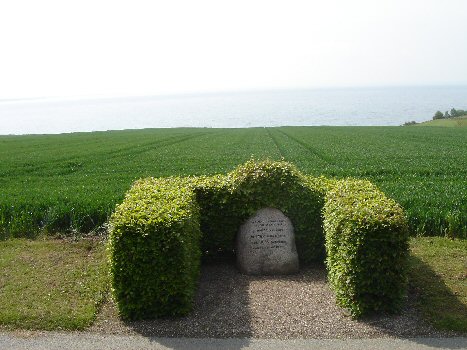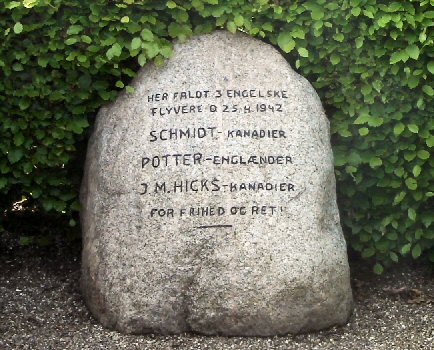 Monument på nedstyrtningsstedet her 100 m øst for Strandlyst, Å Strandvej 42, 5631 Ebberup for de 3 flyvere fra HAM P5330.
Rejst af beboerne, afsløret 22. juli 1945, hvor også repræsentanter for RAF og modstandsbevægelsen var tilstede, se Højtidelig mindestensafsløring i Sønderby
Her faldt 3 engelske flyvere d. 25.4 1942 SCHMIDT - kanadier, POTTER - englænder, J.M. HICKS - kanadier for frihed og ret !
Se artiklen Da Hampden P5330 styrtede ned og øjenvidneskildring samt Omkring Hampden P5530 og brev fra Doreen og Frank Adams.



Monument at the crash site here 100 m east of Aa Strandvej 42, DK 5631 Ebberup to the 3 airmen from HAM P5330.
Erected by the residents, unveiled 22 July 1945 in the presence of representatives from the Royal Air Force and the resistance movement. (Source: KM)
Here fell 3 English airmen 25.4 1942 SCHMIDT - Canadian, POTTER - Englishman, J.M. HICKS - Canadian for freedom and justice !
See Around Hampden P5530, an eye witness account, a letter from Doreen and Frank Adams.