Mårum - Monument Updated: 21 NOV 2008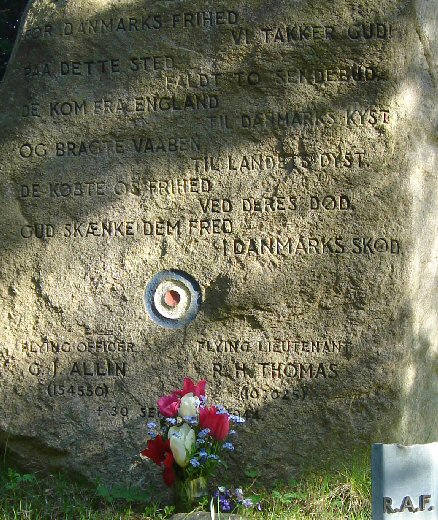 Monument ved Mårum, Boland Vang i Gribskov for
F/O G.J. Allin og F/Lt R.H. Thomas fra MOS NS906 på patruljeflyvning
afsløret 22. 7 1945.
Iniativtager var sognepræst Johannes Magelund, Mårum Præstegård. (KM)
For Danmarks Frihed vi takker Gud!
Paa dette Sted faldt to Sendebud.
De kom fra England til Danmarks Kyst
og bragte Vaaben til Landets Dyst.
De købte os Frihed ved deres Død.
Gud skænke dem Fred i Danmarks Skød.

Flying Officer G.J. Allin Flying Lieutenant R.H. Thomas
30. September 1944



Monument at Mårum, Boland Vang in Gribskov to
F/O G.J. Allin and F/Lt R.H. Thomas from MOS NS906 on a day ranger mission
erected at the initiative of vicar Johannes Magelund, Mårum,unveiled 22. 7 1945.
For Denmark's freedom God be praised!
In this place two messengers fell.
They came from England to Denmark's shores
and brought us arms for Denmark's fight.
They bought us freedom with their death.
God rest their souls in Danish ground.
(Translated by KK)