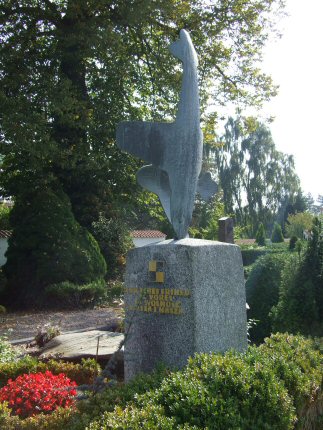 Slaglille, 5 flyvere.

Slaglille Kirke, Slaglillevej 1, 4173 Fjenneslev i Sorø Kommune.

Indgangen er her. Dette gravsted er her.
Se gravsten, monument og familien Christensen. Se Slaglille 2017.

Se artikel Katastrofe med 10 dræbte mindet, Slaglille 1943-2018.
Se TV ØST 15 SEP 2018: Krigens rædsler mindet i Slaglille, 3:40
og TV ØST 16 SEP 2018: Reportagen: Tragedien i Slaglille, 28:37.
Se kirken på nettet. Gå ned og se skulptur med 2 fly og omtale af flystyrt.



Slaglille, 5 airmen.

Slaglille Kirke, Slaglillevej 1, DK-4173 Fjenneslev in the Municipality of Sorø.

The entrance is here. This plot is here.
See gravestone, monument and the Christensens. See Slaglille 2017.
See Disaster with 10 deceased remembered, Slaglille 1943-2018.
See the church on the internet.
Scroll down and see a sculpture with 2 planes and text about the air crash.