Reerslev Kirkegård - Churchyard Photo: Britta Pedersen 20 JUN 2009 Updated: 11 APR 2012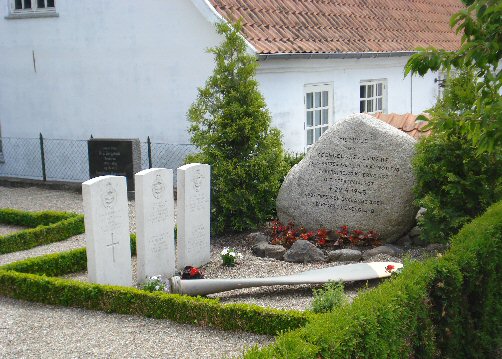 Reerslev, 5 flyvere.
Reerslev Kirke, Tranemosevej 2B, Reerslev, 4291 Ruds-Vedby
i Kalundborg Kommune.
Indgangen er her. Dette gravsted er her syd for kirken.
Navne på headstones er i alfabetisk rækkefølge fra venstre.
Se dette danske monument for 5 flyvere fra STI BF515
og se monument på nedstyrtningsstedet rejst her, se kort.
Se foto af de 7 flyvere.
Se kirken på nettet.

Reerslev, 5 airmen.
Reerslev Kirke, Tranemosevej 2B, Reerslev, DK-4291 Ruds-Vedby
in the Municipality of Kalundborg.
The entrance is here. This plot is here south of the church.
Names on headstones are in alphabetical order from the left.
See this Danish monument to 5 airmen from STI BF515
and see monument on the crash site erected here, see map.
See photos of the 7 airmen.
See the church on the internet.