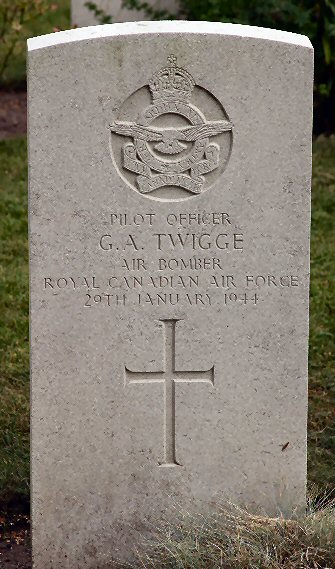 Gerald Andrew Twigge Photo: Mogens Jeppesen Updated: 06 OCT 2021

Airman: a113091.htm Surname: Twigge Init: G A Rank: P/O Service: RCAF Sqdn: 10
P_link: p257.htm Plane: HAL JD273 Operation: Bomb G Crash_site: Near Kliplev
Crash_d: d290144 Buried_d: b020244 C_link: c113.htm At_Next: Aabenraa, R 4-18

Den 29. januar 1944 kl. 02.34 styrtede HAL JD273 ned ved Kliplev (som er her) på bombetogt til
Berlin. Hele besætningen omkom. (Kilde: p257MACR)
Mayes, O'Connor, Saxty, Twigge og Watters blev begravet i Aabenraa den 2. februar 1944.
Da man var klar over, at der måtte være flere dræbte besætningsmedlemmer, fortsatte CBU folk udgravningsarbejdet i foråret og sommeren.
Den 30. april 1944 blev liget af F/O Miles fundet. Han blev begravet den 3. maj 1944.
F/Sgt Dudley blev fundet sidst i august og begravet den 1. september 1944 i Aabenraa. (Kilde: FAF)
Pilot Officer (Air Bomber) Gerald Andrew Twigge var fra Canada. (Kilde: CWGC)
Halifax Print * Halifax Mk III på YAM 2019 * folk bag en Halifax klar til en mission. 7 flyvere.

On 29 January 1944 at 0234 hrs HAL JD273 crashed at Kliplev (which is here) on a bombing raid
on Berlin. All of the crew perished. (Source: p257MACR)

Mayes, O'Connor, Saxty, Twigge and Watters were buried in Aabenraa on 2 February 1944.
Knowing that there had to be more killed crew members the excavation work continued in the spring
and summer of 1944.
On 30 April 1944 the body of F/O Miles was found. He was buried on 3 May 1944.
F/Sgt Dudley was found in late August and buried in Aabenraa on 1 September 1944. (Source: FAF)
Pilot Officer (Air Bomber) Gerald Andrew Twigge was from Canada. (Source: CWGC)
The Canadian Virtual War Memorial has this.
He is remembered on The Walls of Names at the International Bomber Command Centre, Ph 2, Panel 256.
See No. 10 Squadron RAF - Wikipedia * RAF 10 Squadron Association * Halifax * Halifax Print
Halifax-BC Museum.Canada * Halifax-RAF Museum * Halifax-The Yorkshire Air Museum
Halifax II JD273 ZA-Y took off from RAF Melbourne at 2359 hrs on 28 JAN 1944.
(Source: Aircrew Remembered has this) 7 airmen.