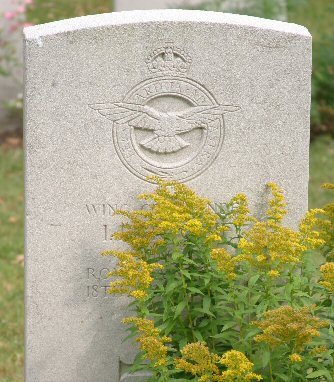 Irwin John McGhie Photo: Mogens Jeppesen Updated: 18 MAY 2021

Airman: a113081.htm Surname: McGhie Init: I J Rank: W/Cdr Service: RAF Sqdn: 619
P_link: p210.htm Plane: LAN EE117 Operation: Bomb G Crash_site: Ustrup
Crash_d: d180843 Buried_d: b210843 C_link: c113.htm At_Next: Aabenraa, R 3-10

"Natten til den 18. august 1943 angreb næsten 600 RAF bombere den tyske forsøgsstation ved Peenemünde på øen Usedom, nord for Stettin.
Under returflyvningen fra dette mål blev 3 "Lancaster" fly skudt ned mellem kl. 02.54 og 03.11 af en og
samme tyske natjager. Samtlige ombordværende britiske flyvere omkom." (FAF)
Se beretning fra Pilot, Oberleutnant Hans Meisner modtaget fra Jørgen Jørgensen, Flystyrt.dk.
Se Det Historiske-Tekniske Museum i Peenemünde.

De 3 fly: LAN JA851 styrtede ned her ved Hellesø gård, LAN JA691 ved Barsmark her,
og LAN EE117 ved Ustrup her.
Wing Commander (Pilot) Irwin John McGhie var fra United Kingdom. (Kilde: CWGC)
Se monument for besætningen på LAN EE117 rejst her. Se Lancaster fotos og p210MACR. 8 flyvere.




"On the night before 18 August, 1943 nearly 600 RAF bombers attacked the German military test site at
Peenemünde on the island of Usedom, north of Stettin. During the return flight from this target 3 Lancasters
were shot down between 02.54 and 03.11 by the very same German night fighter.

All British airmen on board perished." (FAF)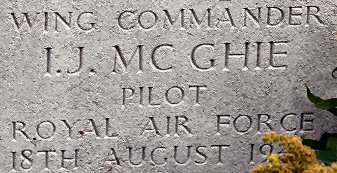 See account from Pilot, Oberleutnant Hans Meisner received from Jørgen Jørgensen, Flystyrt.dk.
See The Historical Technical Museum in Peenemünde.
The 3 planes: LAN JA851 crashed here at Hellesø gård, LAN JA691 at Barsmark here
and LAN EE117 at Ustrup here.
Wing Commander (Pilot) Irwin John McGhie was from the United Kingdom. (Source: CWGC)
He is remembered on The Walls of Names at the International Bomber Command Centre, Phase 1, Panel 71.
See monument to the crew of LAN EE117 erected here. See No. 619 Squadron RAF - Wikipedia *
RAF-Lincolnshire - Woodhall Spa * Lancaster Photos
Lancaster III EE117 PG-L took off from RAF Woodhall Spa at 21.51 hrs on 17 AUG 1943.
(Source: Aircrew Remembered has this.) See p210MACR. 8 airmen.