Lancaster III EE117 - Ustrup - Monument Updated: 11 SEP 2012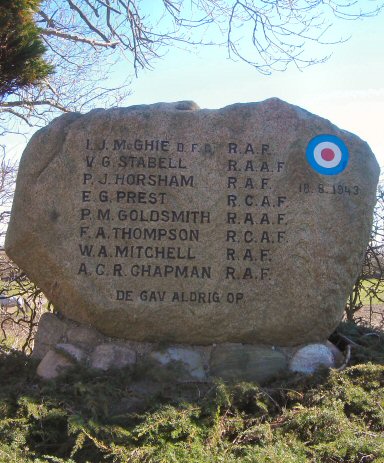 Monument for flyverne på LAN EE117 rejst her
i Ustrup lige syd for Mindevej 1, 6500 Vojens.
8 navne. De gav aldrig op. 18.8 1943.
"Danske Sønderjyske Krigsdeltagere i Vedsted Sogn rejste stenen,
der blev afsløret 5.5 1949." (KM)

Se Monument 1949 - 2007.

Monument to the airmen from LAN EE117 erected here
in Ustrup just south of Mindevej 1, 6500 Vojens.
8 names. They never gave up. 18 August, 1943.
"Danish Participants in the War from the Parish of Vedsted in Southern Jutland
erected the stone, which was unveiled on 5 May, 1949". (KM)
In the period 1864-1920 Schleswig (Sønderjylland - see map) was
German, and as German citizens the pro-Danish inhabitants had
to fight in the German army during World War I.

After the war a plebiscite was held, and the northern part of Schleswig
became Danish again. Now Sønderjylland is the name of the Danish part.

See Monument 1949 - 2007.