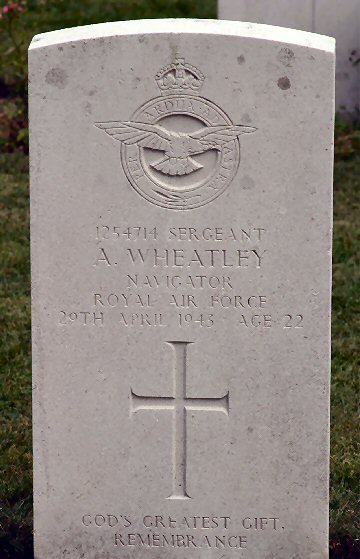 Albert Wheatley Photo: Mogens Jeppesen Updated: 11 JUN 2022

Airman: a113062.htm Surname: Wheatley Init: A Rank: Sgt Service: RAF Sqdn: 196
P_link: p175.htm Plane: WEL HE170 Operation: Minelaying Crash_site: Near Bjerndrup
Crash_d: d290443 Buried_d: b070543 C_link: c113.htm At_Next: Aabenraa, R 3-19

Sergeant (Navigator) Albert Wheatley, 22 år, var søn af Herbert og Phyllis Wheatley, Wisbech, Cambridgeshire, United Kingdom. (Kilde:CWGC)

"Wellington HE 170 fra No. 196 Squadron RAF gik på vingerne fra Leconfield kl. 20:51 for at lægge miner ud i feltet "Forget-me-not" ud for Kiel. Efter endt udlægning kom flyet under beskydning over Løgumkloster. Unge mennesker på vej hjem fra ungdomsmøde i Løgumgårde kunne berette om en kraftig luftduel op mod Arrild. Flyet brændte i halepartiet og drejede mod Agerskov. Kort efter kom det fra Agerskov over Branderup, og der foregik stadig en duel mellem flyet og den tyske jager. Se Google Map p175 WEL HE170.
Alle kunne se, at Wellingtonen ville nødlande. Den strøg ned lige øst for gårdene i Bjerndrup, og rutscheturen endte uheldigvis i en kanal her, hvor flyet tippede på højkant. Klokken var da omkring 00.50. Der udbrød en eksplosionsagtig brand med høje flammer, som kunne ses langt væk.
Mange iagttagere kom til stedet, som lå ca. 150 m. fra vejen og August Petersens gård. Politiet og lokale beboere forsøgte at redde nogle fra besætningen, da de kunne høre dem klage sig. Området blev afspærret, og de nærmeste familier evakueret, idet der var fare for bombesprængninger. To overlevende blev kørt til Tønder Sygehus, hvor de begge døde med få minutters mellemrum den følgende eftermiddag omkring kl. 13.15. De 3 øvrige af besætningen var blevet fundet, da morgenlyset brød frem. De kørtes til kapellet på Løgumkloster Sygehus. Besætningen er begravet på kirkegården i Aabenraa. Æret være deres minde!"

Informationstavle fra Sønderjyllands Amt opsat her ved mindestenen for WEL HE170,
tekst: Frede Gotthardsen. Se meget mere i En tragisk nødlanding i Bjerndrup. 5 flyvere.

Sergeant (Navigator) Albert Wheatley, 22, was the son of Herbert and Phyllis Wheatley, of Wisbech, Cambridgeshire, United Kingdom. (Source: CWGC) God´s greatest gift, remembrance
He is remembered on The Walls of Names at the International Bomber Command Centre, Ph 2, Panel 262.

"Wellington HE170 from No. 196 Squadron RAF left from Leconfield at 20:51 in order to place mines in the field "Forget-me-not" outside Kiel. When the job was done the plane came under fire over Løgumkloster. Young people on their way home from a meeting in Løgumgårde were able to tell about a heavy air battle towards Arrild. The tail of the plane was burning and it turned towards Agerskov. Shortly after it returned from Agerskov flying over Branderup while the duel between the English plane and the German fighter still went on. See Google Map p175 WEL HE170.
Everyone realised that the Wellington was going to make an emergency landing. It swept down just east of the farms in Bjerndrup, unluckily the slide ended in a canal here, where the plane tipped over and ended up on the edge. The time was now around 00.50. The result was an exploding fire with tall flames, which could be seen far away.
A number of spectators arrived on the spot, situated about 150 meters from the road and the farm of August Petersen. The police and local residents tried to save the crew because they could hear wailing. The area was closed off and the families living near by were evacuated because of the danger of exploding bombs.
Two survivors were taken to the hospital in Tønder, where they passed away shortly after each other around 13.15 the following day. When the dawn broke the remaining 3 crewmembers were found. They were taken to the chapel of Løgumkloster Hospital. Before noon the pilot who had shot the plane down at Bjerndrup arrived in a small sports plane. He was photographed by the wreckage. Some days later the burned out plane was removed.
The crew was buried at the cemetery in Aabenraa. May They Rest in Peace."
Information table from the county of Sønderjylland placed here at the monument to the crew of WEL HE170.
Text: Frede Gotthardsen. Translation: Eva dé Silva and Kirsten Klitgård.
15 of the bombers were lost over Danish territory, see Google Map p169+MINELAYING. Only 4 airmen from the 23 lost planes survived!
See No. 196 Squadron RAF - Wikipedia * 196 Squadron * 196 Squadron, 38 Group * Wellington * Minelaying areas with the area Forget-Me-Not (Source: p175MACR)Wellington X HE170 ZO- took off from RAF Leconfield at 20:51 on 28 APR 1943. (Source: Aircrew Remembered has this.) 5 airmen.