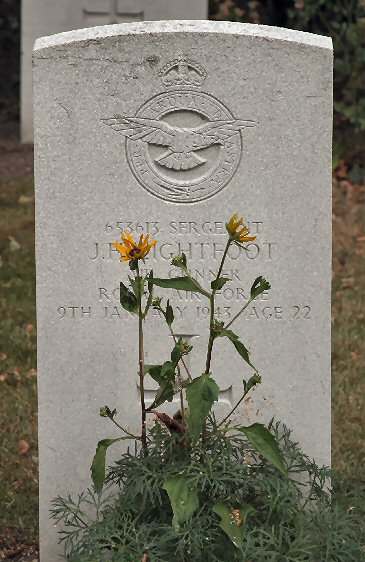 John Henry Lightfoot Photo: Mogens Jeppesen Updated: 04 JAN 2012

Airman: a113049.htm Surname: Lightfoot Init: J H Rank: Sgt Service: RAF Sqdn: 44
P_link: p129.htm Plane: LAN W4277 Operation: Minelaying Crash_site: Søst Skov (Forest)
Crash_d: d080143 Buried_d: b160143 C_link: c113.htm At_Next: Aabenraa, R 2-4

Den 8. januar 1943 styrtede LAN W4277 ned i Søst Skov her ca. 4 km vest for Aabenraa.
Se monument på nedstyrtningsstedet. Hele besætningen omkom. De 7 flyvere blev begravet i
Aabenraa. (Kilde: FAF)
Sergeant (Air Gunner) John Henry Lightfoot, 22 år, fra United Kingdom, var søn af John Lightfoot
og Margaret Lightfoot (f. Leitch), Edinburgh; gift med Jean Shearer Lightfoot (f. Robertson).
(Kilde: CWGC)
Den 8. januar 1943 kl. 17.36 startede denne Lancaster fra RAF Waddington på en mineudlægningsoperation til Daffodil-området omkring her i Øresund.
Det blev angrebet af en tysk natjager og styrtede ned kl. 19.40. (Kilde: AOD) Se Minelægningsområder.
7 flyvere.

On 8 January 1943 LAN W4277 crashed in the Søst Skov (Forest) here about 4 km west of
Aabenraa. See monument at the crash site. All of the crew perished. The 7 airmen were buried
in Aabenraa.
Sergeant (Air Gunner) John Henry Lightfoot, 22, UK, was the son of John Lightfoot and of
Margaret Lightfoot (nee Leitch), of Edinburgh; husband of Jean Shearer Lightfoot (nee Robertson).
(Source: CWGC)
On 8 January 1943 at 17.36 hours LAN W4277 took off from RAF Waddington on a minelaying
operation to the Daffodil-area about here in the Sound.
It was attacked by a German night fighter and crashed at 19.40 hours. (Source: AOD)
See Bomber Command No. 44 Squadron * No. 44 Squadron (RAF): Second World War.
44 Squadron Casualties * No. 44 Squadron RAF at Wikipedia. RAF Waddington now.
RAF-Lincolnshire.info: 44 Squadron. This Lancaster took off from RAF Waddington. Lancaster Photos.
Lost Bombers has this. 7 airmen.