Lancaster I W4277 - Søst Skov (Forest) - Monument Updated: 11 MAY 2021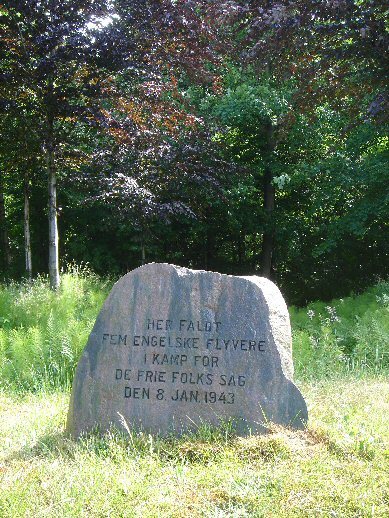 Monument for besætningen på LAN W4277 rejst her i Søst Skov 2 km vest for
Aabenraa Kirkegaard.
Find P Kristiansdal her ved Søstvej 230, 6200 Aabenraa i sydkant af Søst Skov og
tag denne folder fra Naturstyrelsen (eller udskriv den nu).
Klik Læs eller download folderen A4 (pdf) og se RAF mindesten syd for jernbanelinjen.
Fra P følg Elgaardsvej-Kirkesti-Jørgensbjergvej til RAF mindesten, afstand 1,3 km.

"Fem flyvere" - fra LAN W4277 blev først 5 og senere 2 flyvere begravet. (Kilde: FAF)

"Stenen blev rejst af Aabenraa Skovdistrikt 8.1. 1983. Inskriptionen er den samme,
som en ung mand fra Rise skrev på et selvlavet trækors, han rejste på stedet i 1943.
Denne handling indbragte den unge mand 10 dages hæfte ved retten i Aabenraa." (KM)
7 flyvere.



Monument to the crew of LAN W4277 erected here in Søst Forest 2 km west of
Aabenraa Cemetery.
Find P Kristiansdal here at Søstvej 230, DK-6200 Aabenraa at the southern edge
of Søst Forest and take this folder from Nature Agency (or print it now).
Kort means Map. Mindesten means Memorial stone.
Click Læs eller download folderen A4 (pdf) and see RAF mindesten south of the railway line.

"Here five English airmen fell fighting for the cause of the free peoples on 8 January 1943"

"Five airmen" - 5 airmen of LAN W4277 were buried on 16 January 1943, later 2 more.(Source:FAF)
"This stone was erected by Aabenraa Forest District on 8 January 1983.
The inscription is the same as the one that a young man from Rise wrote on a wooden cross
of his own making which he erected on the spot in 1943.
This action cost him 10 days mitigated imprisonment at the court of Aabenraa." (KM)
7 airmen.